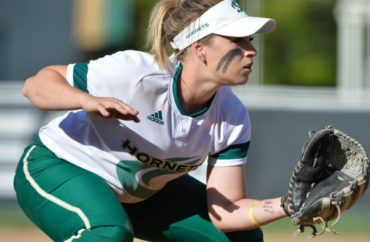 Booted from team, scholarship revoked
After The College Fix reported on widespread ignorance of Title IX protections for pregnant or potentially pregnant athletes, a student decided she couldn't stay silent any longer.
Kailey Olcott said she was "harassed" by her coach, lost her scholarship and was removed from the Division 1 softball team at Sacramento State University after her pregnancy was leaked to athletics staff and her teammates.
One administration office went to bat for Olcott in her fight to stay on the team and keep her scholarship, but the Title IX office sided with her coach without seeing evidence that Olcott collected, she told The Fix in multiple email exchanges since March.
Now on the verge of graduating at a different school, Olcott said that when she saw The Fix report about the failure of athletics staff and even Title IX offices to tell female athletes about their rights, she could "not just sit back and allow it to happen to another athlete."
The Fix contacted multiple Sacramento State offices, asking them to respond to Olcott's allegations about their roles in her dispute. The Title IX office declined to comment for "privacy reasons" and said its answer was the "university response."
Happy Mother's Day💗💗 pic.twitter.com/5E6uO3d0Zp

— KO (@kaileyolcott) May 13, 2018
'She was done with me regardless'
Title IX protects student athletes from losing their scholarships and positions on teams, as well as from the withholding of opportunities, because of their real or perceived pregnancies.
Olcott was in her "second senior year" on the softball team, having been medically excused from play during her true senior season, when she learned she was pregnant last June.
She told The Fix the news was first delivered to her assistant manager at work, who then shared the news with her coaches. "I never got to tell my coach myself," she said.
The coach, a Big Sky Conference Coach of the Year winner, immediately called her and accused Olcott of "disrespect" for not being told first, Olcott said. (The Fix is not naming the coach because Olcott didn't provide the coach's name until Monday afternoon, and the coach has not had sufficient time to respond to a Fix query. Olcott also asked that the coach not be named.)
The coach sent her emails, voicemails and text messages threatening that if she "wasn't going to tell my team, very soon she would," according to Olcott.
She said she wasn't aware until after her removal from the team that much of her coach's behavior was in violation of NCAA guidelines, as laid out in the association's Pregnancy and Parenting Handbook.
MORE: Colleges encourage athletes to abort through their silence, say pro-life activists
The handbook, which lays out a "model policy," describes the importance of student athletes being allowed to reveal their pregnancy status on their own time. It says that a student athlete's control of the announcement of her pregnancy "will enable her to make better decisions about her pregnancy and make it less likely she will hide it unnecessarily."
Olcott was denied time to consider her pregnancy before the news was told to her coaches and teammates. "My team split in two, half were very supportive, and half I've never spoke to since," she said:
At that point I hadn't even gotten time to think about what I was going to do. My coach made it very clear that she was done with me regardless. At that point I hadn't even gotten to go to the doctors to know what was going on, so making a decision on the spot wasn't a realistic expectation.
Asked about her familiarity with Title IX or education on its protections, Olcott said the team "went through none that I was aware of." If there were indeed Title IX training, she said it would have been brief and handled as "'sign this paper and we'll get on with things.'"
A brief presentation by a non-coach staff member, quickly followed by team signatures, is a typical scenario for student athletes, a Students for Life of America official told The Fix earlier this year. Beth Rahal, director of the group's Pregnant on Campus initiative, said it was the same procedure she faced as a student athlete.
The team's alleged treatment of Olcott apparently played a role in changes. Since her removal from the team, she has heard from former teammates that the athletics department has "made a very clear point to talk to all female teams about pregnancy rights."
MORE: College that kicked pregnant student out of dorm forced to reverse
'Essentially calling me a liar' – and ignoring evidence
Olcott found support from the compliance office in the athletics department, which is charged with protecting student rights under NCAA regulations. "Compliance was very supportive and were on my side to combat my coach the entire time," she said.
After she was refused a medical absence from both the softball season and classes, Olcott said she asked compliance if she was allowed to return next season. Compliance allegedly told her that Olcott's coach "would not let me come back." The compliance office was forced to tell Olcott's coach to stop "text messaging and calling because at that point it was a form of harassment."
When the coach "pulled my scholarship that summer going into the next year[,] I was dropped from all of my classes," Olcott told The Fix in an email:
I had to go to department chairs to beg professors for my classes back, and even then could not. […] Compliance fought to get my scholarship covered again […] but my place on the team would not be given back and my scholarship will not be given to me to finish my schooling.
Olcott was "still hoping I could come back and play" when compliance referred her to a Title IX officer, "so I didn't ever submit a formal complaint out of fear that she would have to be my coach and I would be treated poorly if I had to play under her again," Olcott said.
The compliance office did not respond to email inquiries from The Fix regarding the handling of Olcott's case.
MORE: Pregnant students finally have a real choice
Olcott said the Title IX officer then emailed her coach and discussed her situation "without my permission." She later received an email stating there was no fault found with her coach:
At that point I felt like my university did nothing to protect me and was essentially calling me a liar. They came to the conclusion she was innocent without ever seeing my evidence (i.e. voicemail, text messages, proof of pulled scholarship) or any formal complaint. […] Hearing that she was able to get away with what she did with just an email made me feel as though I was worthless in the universities [sic] eyes.
University media relations did not respond to email inquiries by The Fix regarding Olcott's case or accusations.
Olcott said she worried that another student athlete might face similar discrimination or difficulties and make "the wrong choice" for fear of losing her place on a team or in a university. "You shouldn't give up your values or beliefs in fear of losing a spot on the team, a scholarship, or playing time," she told The Fix.
Title IX Coordinator William "Skip" Bishop told The Fix in an email that the university could not comment on Olcott's case due to "privacy reasons," but he referred The Fix to the university's  policies on Parenting Student Rights.
Bishop said "all pregnant students, including pregnant student-athletes, are treated fairly and are provided appropriate accommodations that meet their needs."
MORE: Christian university promotes abortion to students
IMAGES: HornetSports.com
Like The College Fix on Facebook / Follow us on Twitter