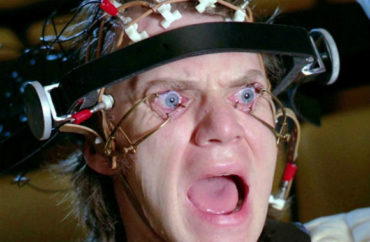 Today is #GivingTuesday. Click here to make your tax-deductible gift online. It's fast, easy and secure. As a nonprofit, we truly appreciate your support.
Some San Diego State University students are undergoing what organizers acknowledge is a "disturbing" series of "sensory experiences" in an attempt to drive out students' prejudicial tendencies and help make them less oppressive.
The annual workshop, "Journey to a Shared Humanity," is described on the university's website as a way for organizers to get students to "step outside their comfort zone and into the shoes of those who are struggling with oppressive circumstances."
This year, some students were required to attend the event as part of their classes. During the experience, students are walked through a darkened multipurpose room to view a series of theatrical vignettes acted out by campus leaders.
For example, in this year's rendition, held earlier this month, students observed skits that included a black man yelling at them to stand against and face the wall and not look at him.
"Let's go! Face the wall! Don't look at me," the performer yelled as if he was a drill instructor commanding recruits. Then he went on.
"First they came for the Native Americans, but I'm not Native American, so I did not speak up. Then they came for the Jews, but I'm not a Jew so I did not speak up. Then they came for the gays, but I am not gay so I did not speak up. Next they came for the crippled, but I'm not crippled, so I did not speak up. Turn around. What do you see? What do you see?
"There's one light left?" one student offered.
"One light. One life. My life, and when they came for me there was no one else to speak up," the performer concluded.
Some of the skits may be seen in this video:
In another performance, students heard very loud banging and a man's voice yelling: "ICE, open up!" A "mother" in the scene hurriedly tells her daughter, who she is speaking to on the phone, that she has "to go."
"Don't let them teach you to be scared of others that don't look or sound like you. Okay, stay quiet and stay put," the mother says.
"Wait, mom?"
"Ti amo mucho."
"Wait, don't go! Don't touch her! Mom?!"
Then the actress stands and faces the students observing in the wings.
"How would you feel if one of your family members was getting taken away from you? Well it's happening today. It's happening to me," the performer says somberly as the skit ends.
In another skit, a loudspeaker chants "Jews will not replace us" over and over, the words echoing loudly and eerily through the darkened building. It's the same chant neo-Nazis marching in Charlottesville yelled. "Then" and "now" images in the background appear to juxtapose images from WWII-era Germany with Charlottesville rioters.
In another performance, a female says she has a problem with her Middle Eastern roommate because "she's a little too foreign." She says her roommate wears a headscarf, and that she doesn't "feel comfortable sharing a room with someone who could be related to a terrorist."
The overall theatrical experience, which included about a dozen skits, lasted about 20 minutes. (A transcript of the entire performance is available here.)
Ray Savage, leadership coordinator for residential education and coordinator for Journey to a Shared Humanity, told The College Fix that organizers have not received any formal complaints about the program.
According to a 2014 Facebook description of the annual workshop, "Journey strives to give people a way to experience oppression in a hands-on way. By engaging emotions of the participants, it allows for the accounts in the program to be truly effective."
Organizers acknowledge the annual event's "sensory experiences …may be disturbing," but adds "it is an effective tool used to teach people about how it really feels to be in oppressive situations."
After students viewed the "immersive live theatrical experience presenting a collective of raw and emotional performances," as it has been described, they are taken into a room and debriefed by professors or other campus leaders about how the skits made them feel and what they should do to better combat oppression.
After one such performance earlier this month, a student group that experienced the journey together then engaged in a discussion during which the professor leading the talk said President Donald Trump is a racist, and also encouraged the students to fight against oppression.
"It is our sincere hope that by exposing students to the oppressive systems in society they'll take a look at how we all participate in these systems and hopefully commit to changing oppressive patterns and behaviors," Savage told SDSU's News Center in 2014.
The journey is hosted by the public university's Residential Education division. Students are advised they are allowed to leave the journey if it becomes too intense for them.
IMAGE: A Clockwork Orange
Like The College Fix on Facebook / Follow us on Twitter