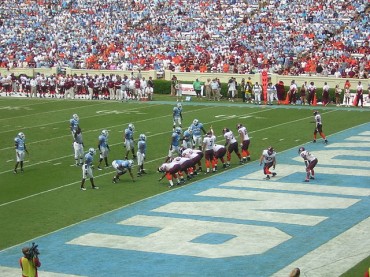 The 2012-2013 NCAA football season officially concluded with Alabama drubbing Notre Dame in the 2013 BCS National Championship for their second title in a row. Despite numerous negative incidents and scandals over the last year, the game's popularity remains at an all-time high, and more profitable than ever. But, some are wondering whether or not the right people are getting paid.
Since its inception, the NCAA has operated under the rule that student-athletes are amateurs and thus, should remain unpaid. The organization has punished teams that illegally paid players under the table, suspended players that have been paid and vacated wins from the programs that have done so.
In the beginning, collegiate athletics was not a multi-million dollar industry. Even today, almost all college sports programs lose money. However, NCAA Division I football and basketball generate huge revenues. These two sports have evolved to the level that coaches and universities are making staggering amounts of money off of the talent of their student-athletes.
Elite college football coaches have very difficult, stressful jobs and accordingly are very well compensated. Alabama head coach Nick Saban is the highest paid NCAA football coach in the country with a contract that guarantees $5.3 million a year before various bonuses that are written into his contract. Since Alabama finished first in the Associated Press Top 25 poll, Saban will be paid a $200,000 bonus plus $110,000 for making the BCS title game.
Ohio State finished the 2012 season undefeated, but were barred from participating in any bowl games for breaking NCAA rules. This, however, did not stop their coach, Urban Meyer, from getting a $150,000 bonus for finishing third in the AP Top 25.
Head football coaches are not the only ones profiting from prolific college athletics; universities are generating and spending extraordinary sums to make their programs relevant and successful.
The BCS is comprised of six major conferences, the Atlantic Coast Conference, the Big 12 Conference, the Big East Conference, the Big Ten conference, the Pacific 12 conference and the most prominent football conference, the Southeastern Conference.
Recently, the Associated Press announced that a study has been released which reveals that universities of these conferences annually spend $100,000 per scholarship athlete. This figure is six to 12 times the amount spent on students that weren't athletes.
Another recent study poked holes in the idea that student-athletes shouldn't be compensated (aside from their tuition scholarships) for their play. This study, conducted by the National College Players Association and the University of Drexel Department of Sports Management, shows that contrary to popular belief, scholarship athletes don't actually have all of their expenses paid for. In fact, an average football and basketball player has to pay between $3,000-$3,222 per-year for their all-expenses-paid scholarship. Conversely, if an average college football player or basketball player were assessed according to the market value he brings to the school, each would be worth upwards of $120,000.
To recap, an average college player at a big-time program doesn't have all of his promised expenses paid for while their coaches' salaries continue to rise, their programs continue to profit and expand, and their universities continue to spend. Everyone benefits financially, except for the athletes, themselves.
The NCAA has been historically stubborn over changing its ways to adapt to the times. But lately, even NCAA President Mark Emmert has conceded that it may be time for college players in big money sports to start getting a cash stipend amounting to as much as a few thousand dollars per year.
A small stipend might be far from a fair deal. Yet, even the suggestion is a step away from the NCAA's once-revered ideal of amateurism. Perhaps we are one step closer to creating a system void of the wildly uneven financial disparities that exist today in college athletics.
Fix contributor Blake Baxter is a student at Eureka College.
Click here to Like The College Fix on Facebook.
Image Source: Wikimedia Commons