This past Monday in "honor of the work of Martin Luther King Jr. and Liberation Week," Yale University's Dwight Hall and Afro-American Cultural Center co-hosted a workshop on race and racism.
As reported by the Yale Daily News, the workshop was led by Barb Mangle who's identified as "an activist and former professor at Quinnipiac University." Since it behooves us here at The Fix to know what expertise Ms. Mangle brings to the table on the issue at hand (like, for instance, what she had taught at Quinnipiac), we took the interwebs.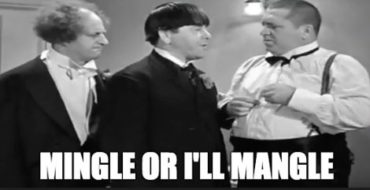 Oddly, searches provided absolutely no information on Ms. Mangle. The Fix contacted YDN reporter Niki Anderson for clarification and discovered that Ms. "Mangle" is actually Ms. "Nangle." She allegedly was an adjunct at Quinnipiac.
However, the only thing Google turns up regarding Ms. Nangle and Quinnipiac University is a never-commented-on Rate My Teachers page which says she is (was) a sociology professor.
What's also curious is that Nangle does not list her tenure at Quinnipiac on her LinkedIn page. Still more curious is Nangle's LinkedIn page notes she has worked since 1998 at the very school which hosted the January 23 racism workshop — Yale. Why would she not mention this fact to the YDN's Anderson?
The Fix reached out to Ms. Nangle for an explanation; she did not answer our query.
The answer may be that her current position at Yale has little to do with race and racism, but her graduate work in sociology at the University of Connecticut does.
Nangle is listed as an author of the Teaching Sociology article "Games Children Play: An Exercise Illustrating Agents of Socialization" which
argues that children's toys and games contribute to representing and reinforcing dominant conceptions of appropriate social identities. [It] invites students to play a number of children's games in order to experience the "hidden agendas" concerning race, class, gender, and political socialization conveyed to them while they are playing.
"Hidden agendas." Of course.
Nangle also is noted as a (graduate student) research contributor to the book "Welfare Racism: Playing the Race Card Against America's Poor."
Despite this somewhat race-oriented background, at the workshop Nangle offered absolutely nothing about racism and privilege that hasn't been spewed 100 times before:
"Racism is really evasive, and it adapts and changes," [Nangle said]. "Most of us think about racism as something that disadvantages people of color, but you can't have a group of people who are disadvantaged without a group of people who are advantaged."

The workshop focused on the role racism plays in our society and the phenomenon of white privilege. It began with a set of ground rules set forth by the attendees that emphasized the importance of balancing passion and reason, speaking from personal experience and speaking truth to power. This was followed by a group exercise which focused on how to address racism when it comes up in conversation, a discussion of the race-based assumptions that exist in society and a brief lecture on privilege from Nangle.
Nangle went on to note everyone is "[racist] because we have grown up in a society where we are immersed in racist messages and stereotypes" adding that "our society has the embedded notion that whiteness is goodness."
At the end of seminar, attendees were given "calls to action" which included "ways to discuss racism with people who don't see it as major issue."
But here's the best part of all: The workshop attendance was minuscule. A total of eight community members showed up.
How come? A commenter to the story nails it:
"Maybe the turnout was 'meager' because people have been relentlessly beaten over their heads with this for the last 15+ years of their lives? And only one possible 'conversation' is going to be tolerated anyway?"
MORE: Univ. floods building with cops due to new 'White Racism' class
MORE: University of Utah launches 'anti-racism task force'
IMAGE: YouTube
Like The College Fix on Facebook / Follow us on Twitter