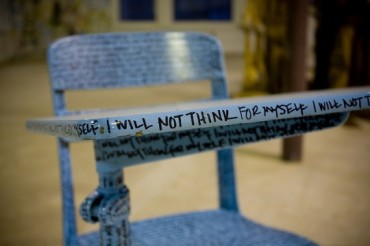 Have you heard of sizeism? You will soon.
It's the latest 'ism' to join the higher education discrimination lexicon, courtesy of San Diego State University's recent "Tunnel of Oppression" theatrical exhibit.
Every November, San Diego State rings in winter with the Tunnel of Oppression, during which groups of students walk through a large multipurpose room and are greeted with a series of vignettes acted out by student Resident Advisors who aim to teach their peers they're insensitive, discriminatory, racist and sexist.
This year, visitors began their experience in a room adorned with pictures of models while the sound of a female vomiting played in the background.
For those of you not currently attending college, let me update you on the latest PC trends: The Tunnel of Oppression is no longer just for blacks or gays. Enter sizeism – such a new inclusion to the PC lexicon that even Microsoft Word 2013 does not recognize it.
Sizeism is oppression against people of different sizes – not just people who are overweight, but also short, tall or skinny. People with an average build are the new Aryan majority.
Now everybody has the opportunity to feel victimized. The inclusion of sizeism – and at SDSU they tossed in ageism, too – makes this possible: invariably everybody is sized differently or of a different age than people they know.
Ultimately, the program aims to make participants feel guilt over any happy thought they've ever had because someone, somewhere, at this very moment, is experiencing oppression. And it's all your fault.
It teaches that oppression does not have to be intentional. Anybody and everybody is oppressive, because any remark has the potential to offend. And of course, the burden falls on the speaker to mind their words and ensure that every remark uses inclusive language.
The skit that made this clear went as follows: a girl tells her friend how sad and scared she is as her mother goes through the first round of chemotherapy. The friend responds with the cheerful fact that the five-year survival rate for liver cancer is 15 percent. The first girl is horrified by her friend's response, and questions her intentions in sharing that information: "What kind of friend are you? How can you say that to me?"
On the friend's chest is a paper that reads "Autistic." So we understand, the girl whose mother has cancer is a terrible, oppressive, scum of the earth because she does not understand that sharing facts is her friend's way of communicating. She should have controlled her anger and fright that was aroused by her friend's remark.
You know it's gotten bad when we can't even have sympathy for the daughter of a cancer patient.
Another vignette explored the plight of a young woman just trying to forge her way in the world against the oppressive sexism rampant in 2013 America.
Her mother overhears a message on the answering machine wishing the girl luck on a job interview. When the girl returns from said interview, the mother confronts her.
"You can't get a job. You have to stay at home. How would your husband feel if you weren't home to make dinner?" The girl argues: "Mom, this is the 21st century. Women don't just cook anymore. They can go out and get jobs." To which, her mother responds with physical violence (the lights came down quickly so we only saw the implication of abuse.)
Never mind that at SDSU, there are more female undergrads than male. In fact, women outnumber men at most colleges, and have a higher graduation rate. Still, they get away with pedaling the line that the expectation is that women will stay in the home, raise the kids, cook and clean.
Also illuminating was the skit about the illegal alien (can I still say that?) who had been sick for weeks, but refused help when her roommate offered to call an ambulance. As she reveals when the roommate leaves: "I'm an undocumented worker. I don't have a social security number. I can't get insurance or financial aid. All because I don't have nine numbers."
More than likely the skit is intended as a political statement about illegal immigration and amnesty and the unfairness of it all. If only there were actual open debate about the topic, instead of cheap emotional appeals. But that would be asking for too much.
I have to give credit where credit is due, however. There was one moment that was so surprisingly honest I almost thought I had imagined it. At the end of the skit against anti-Semitism, the student addressed the audience directly: "History shows that wherever there is prejudice against Jews, oppression of other groups is sure to follow."
I was pleasantly surprised that there was one intelligent and useful comment; it's more than I've heard throughout my four years of experience with the Tunnel.
After walking through the Tunnel, there is a debriefing session, at which students are asked to share their experience with the Tunnel: what they have learned and what they will do with their newfound knowledge. In my group, students shared such illuminating insights as "I learned to be open-minded," "everyone should be treated equally," or "I'm going to be nice to everyone."
The final portion gives participants the opportunity to write a positive thought on a piece of paper and add it to a chain or to write words of encouragement on a large piece of butcher paper tacked to the wall. I wrote down the only piece of advice I thought useful, and probably something most of these students haven't heard before:
"Don't be a victim."
Fix contributor Emily Yavitch is a student at San Diego State University.
Click here to Like The College Fix on Facebook. / TWITTER: @CollegeFix
IMAGE: Mikey Roach/Flickr