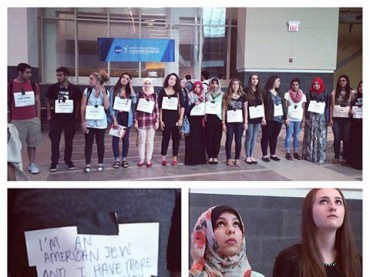 Chapter's members dominate board that rejected harsher censure for fellow member's "ethical" violation
The Students for Justice in Palestine chapter at Loyola University-Chicago can't catch a break.
Following its attempt to block a Jewish event on campus, the chapter has been temporarily suspended from "hosting any on-campus activities or events," according to an e-mailed statement from university spokesperson Steve Christensen.
That suspension will continue "until their leadership meets with University representatives and the group complies with stated policies and procedures that apply to all student organizations," Christensen said.
The College Fix reported earlier this month that chapter members accosted and tried to block Hillel members from promoting Birthright Israel, a program that sends Jewish students to Israel to learn about their cultural heritage, in the student center.
"University reps and the organization's leadership will discuss procedural-type topics, including registration of events and demonstrations, and room reservations," Christensen said, declining to go into specifics.
John Donoghue, a history professor and the chapter's listed adviser, is no longer affiliated with the club and has not "kept up with their recent activities," he told The College Fix in an email. "I didn't even know they were suspended."
Chapter President Nadine Darwish did not respond to requests for comment.
The chapter also narrowly evaded another disciplinary action, after the student senate's judicial board voted to only censure a senator who's also a member of the chapter for breaking the student government's standards on "ethical behavior within the public sphere."
That senator, Israa Elhalawany, faced a trial in front of the judicial board on Sept. 16 for "Facebook posts over the summer in response to the attacks on Gaza," according to its report.
Those posts appear to have been removed – her public profile shows no updates between June 5 and Sept. 8 – but Elhalawany's Twitter profile still shows her next to someone with a sign that reads "Well done Israel, Hitler would be proud."
Because her sign was so controversial #SupportGaza #Gaza #ChicagoProtest #ChicagoStandsWithGaza #FreePalestine pic.twitter.com/jKEMAN1ONg

— Israa Elhalawany (@israaizzy) July 27, 2014
In an email to The College Fix, Elhalawany said she had "a lot to say" and felt victimized.
"There is so much to the story that needs to be said and since my hearing I have felt targeted and I don't think it's fair that the SJP members have had a complaint raised against them by one person," she wrote
Elhalawany did not respond to requests for further comment over the weekend.
The judicial board voted 3-2 to censure her once, and unanimously against censuring her twice. Three of the board's members, including its chief justice, are also chapter members of Students for Justice in Palestine.
The chapter members on the judicial board "did not recuse themselves from this case because judicial would not have been able to meet quorum otherwise," Flavio Bravo, president of the student government, told The College Fix by email.
"More importantly, our bylaws state that each justice must remove their personal bias, be impartial, and judge each case based off of its own merits and everything that is presented," he continued.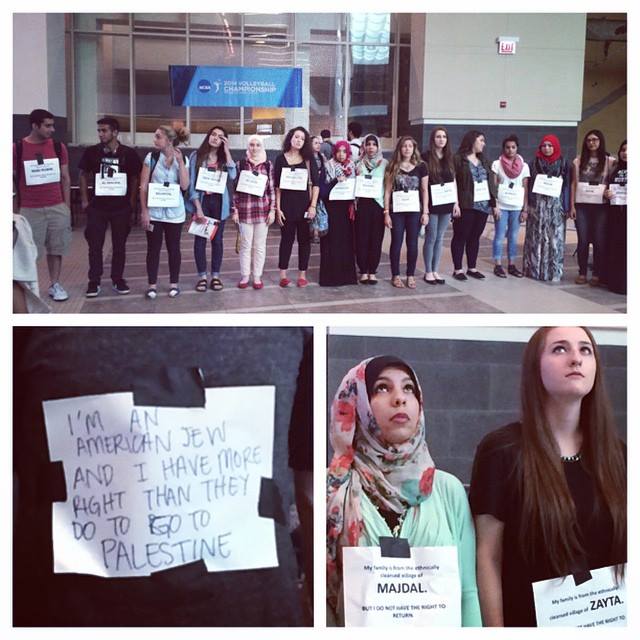 Michael Fasullo, student government vice president, said in a phone interview with The College Fix that, as a member of the executive branch, he is generally kept away from judicial proceedings.
"I wasn't allowed to view the packet of information" and only knew that the case was about a student sharing views about Palestine and Israel on Facebook, Fasullo said. The student government recently held presentations on appropriate social media use at its annual retreat, he added.
But Fasullo said he agreed with Bravo that the chapter members were correct not to recuse themselves from the censure votes, because the issue was how Elhalawany framed the issue, not the content itself.
"The fact that Senator Elhalawany changed her behavior after being contacted shows she recognized the unprofessionalism behind her actions," Chief Justice Zahraa Nasser, a chapter member, wrote for the majority on the single censure. "The Judicial Board appreciates Senator Elhalawany's cooperation and in fact encourages her to continue spreading awareness about her passions and experiences."
Chapter member Nashiha Alam and another justice dissented from giving Elhalawany even a single censure. "Due to emotion, grief and personal impact caused by recent events, Senator Elhalawany was not capable of making rational decisions," they said jointly.
Alam was involved in the Students for Justice in Palestine incident with Hillel. She posted an Instagram video showing the chapter blocking the Birthright Israel information table, but removed it after The College Fix reported on the scuffle. The College Fix has reposted that video on its YouTube page.
College Fix reporter Matt Lamb is a student at Loyola University-Chicago.
Like The College Fix on Facebook / Follow us on Twitter
IMAGE: Talia Sobol