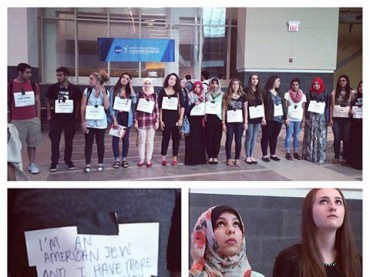 Members of Students for Justice in Palestine at Loyola University-Chicago verbally assaulted their Jewish peers recently, hurling a variety of insults at them before creating a human wall to block their attempt to advertise trips to Israel.
The incident occurred on Sept. 9 as the Hillel student group manned a table for Birthright Israel, a group that pays for Jews to travel to Israel and explore their ancestral background.
"Members of SJP started monitoring the table, walking by, pointing and talking about it like they were clearly planning something," Hillel chapter President Talia Sobol said by email to The College Fix.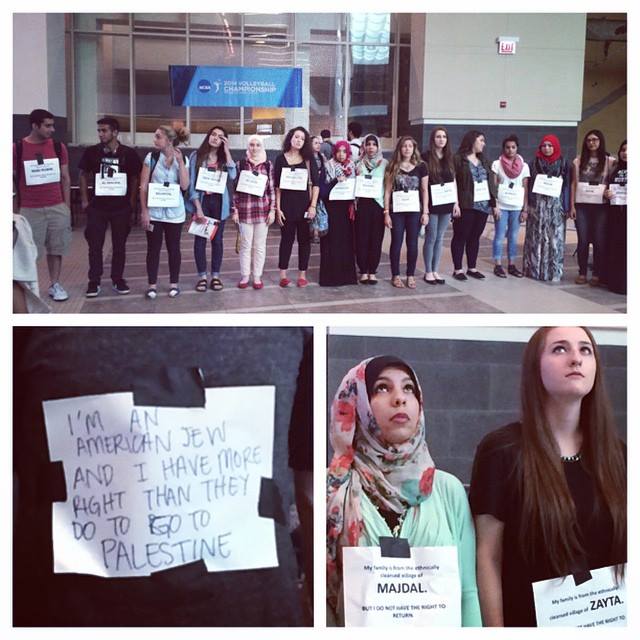 As the tabling event concluded, pro-Palestinian students began to pepper Hillel members with hostile questions such as "How does it feel to be an occupier?" and "How does it feel to be guilty of ethnic cleansing?" said Sobol, adding one member is worried about attending future Hillel events for fear of being attacked.
Students later blocked the table in protest, as captured by a video posted on Instagram by Nashiha Alam, an executive board member of the Loyola chapter of the Palestine group. Alam wrote in a post accompanying the video: "What happens when you try to table for a racist manifest destiny trip to Israel at my school." [UPDATE: Alam has since removed the Instagram video, which is still available from The College Fix on YouTube.]
In the video, students can be seen holding up signs that read: "My family is from the ethnically cleansed village of [each place name] BUT I DO NOT HAVE THE RIGHT TO RETURN."
The incident comes on the heels of a contentious Israel divestment vote last year, further fanning the flames between Loyola's Hillel and Students for Justice in Palestine chapters.
Sobol said the university is investigating the incident. She said the protesting students violated at least six community standards: "not receiving prior permission for a protest," interfering with the rights of others to demonstrate, blocking entrances or exits on campus, harassing other registered student organizations, threatening university members and disrupting a building's normal functions, in this case the Damen Student Center.
"Hillel students are anxious for results [from the university investigation], and want to feel protected on this campus," Sobol said, adding that "campus security must attend every single event we hold because of the campus climate towards Jews."
Such acts by pro-Palestinian students make it harder to build "dialogue or debate" with them, Sobol added.
Neither the Loyola chapter of Students for Justice in Palestine, nor Alam, who posted the video, responded to requests for comment.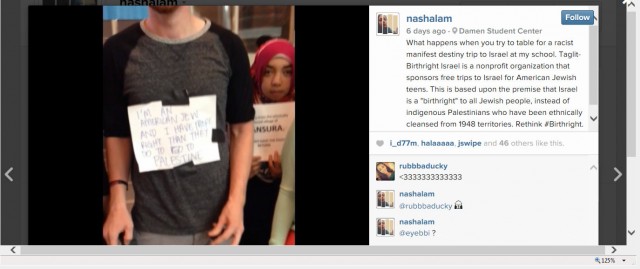 Leslie Watland, assistant director for student activities and Greek affairs at Loyola, deferred questions by The College Fix about the incident to a university spokesperson, who confirmed in an email to The College Fix that the incident is under investigation by the campus Office of Student Conduct and Conflict Resolution.
"Leaders from our Division of Student Development have reached out to both student organizations to remind them that Loyola, a Jesuit and Catholic university, is a diverse community that promotes mutual respect, student safety, knowledge, and learning," campus spokesman Steven Christensen said. "… Above all, we are committed to the safety and health of everyone in our campus community, and we will not tolerate those who don't respect the individual views and rights of others."
As for Alam, who describes herself as a Bangladeshi American on Twitter, she has written negative comments on social media about Birthright and the divestment campaign at Loyola. She has also mocked the idea of Jewish students feeling "targeted" for the divestment resolution in a Sept. 13 Loyola Phoenix editorial.
"The opposition to this resolution was expected because of apparent parallels between the apartheid South Africa and the current Palestinian struggle," Alam wrote in the column. Divestment opponents make the same arguments as those who argued against South African divestment "in an attempt to justify white supremacy over blacks," she wrote.
College Fix reporter Matt Lamb is a student at Loyola University-Chicago.
Like The College Fix on Facebook / Follow us on Twitter
IMAGES: Talia Sobol, Instagram screenshot