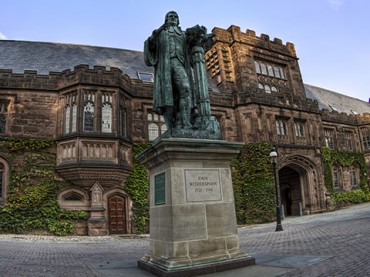 Princeton was an outlier in the Ivy League for its use of the "clear and persuasive" evidence standard in sexual-assault investigations – until the Department of Education forced it to adopt a weaker standard last month.
Now the school is being required to hire a Title IX administrator to comply with government demands as well.
The Daily Princetonian reports that the online job posting says
the administrator will play the leading role in responding to any reported Title IX incidents and will also head whatever investigations into these incidents are deemed necessary. …

Vice Provost for Institutional Equity and Diversity Michele Minter said that the job's creation was completely tied to the controversies in which the University found itself embroiled this past summer.
The administrator will "lead a team of three trained panelists who will handle the cases," replacing the faculty-student committee that previously heard cases. The school is also "open to adding further administrators and investigators if necessary," Minter said.
Warning to anyone who thinks this new official is like a priest:
The Title IX administrator will not, however, be an entirely confidential resource. If a student gives details of a specific incident, the administrator would have to put the University on notice and decide how the University would respond to that information.
The school is "looking to move through the hiring process as quickly as possible" and already has a "strong" pool of candidates despite the listing going up less than two weeks ago, Minter said, according to The Daily.
Read the full article here.
Like The College Fix on Facebook / Follow us on Twitter
IMAGE: Kah-Wai Lin/Flickr