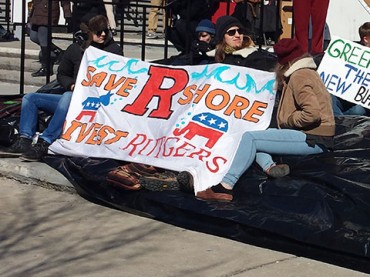 All because of a free-speech zone with vague rules
NEW BRUNSWICK, N.J. – Climate-change activists at Rutgers University learned their place in the progressive pecking order Friday.
Not even two hours into their sparsely attended Global Divestment Day rally against Rutgers' fossil-fuel investment, the activists got bumped from a free-speech zone at the New Brunswick campus by feminist activists.
The university's Office for Violence Prevention and Victim Assistance asked the divestment activists to leave the space early so it wouldn't distract from the office's "One Billion Rising" rally against sexual and domestic violence, divestment campaign member Joshua Salley told The College Fix.
The divestment activists had booked the space in front of Brower Commons until 1 p.m. but the feminist rally was scheduled for 12:30. Salley blamed the office for double-booking the space.
Shane Patel, the divestment campaign director at Rutgers, told The Fix that he didn't mind ending their rally early because One Billion Rising was a good cause.
Salley was upset that his group abruptly ceded its right to the space. "One of the main focuses of the rally is to educate. As many people that we can affect, the better," he said.
The Office for Violence Prevention and Victim Awareness did not respond to Fix inquiries Monday.
Campus groups are "encouraged" but "not required" to file a "public forum notification form" with Rutgers' Student Involvement Office in order to use the four free-speech zones at its four campuses, according to the school's "on-campus promotion resources."
The school applies several rules to public forums but doesn't appear to place any restrictions on overlapping or competing events in the designated zones.
The Foundation for Individual Rights in Education rates Rutgers-New Brunswick a "yellow light" school, in part because of its public-forum guidelines. That means the campus has "at least one ambiguous policy that too easily encourages administrative abuse and arbitrary application."
Even more important than ending apartheid
The divestment rally attracted approximately 20 Rutgers student activists, who repeated chants such as "We don't want your dirty oil, so keep it in the soil."
Part of their mission was to "put pressure on our politicians to show that there is the political will to create actual, tangible political change," Patel told The Fix.
The divestment campaign has been working with the university's boards of trustees and governors, requesting a five-year fossil fuel divestment plan, according to Patel.
"The most progressive schools in the country wouldn't limit their finances without seeing if their community wants it," he said, citing The New School in New York as one college that's "reforming their whole curriculum around climate change."
Though his group wants Rutgers to divest from fossil fuels because "we can't profit off the destruction of our environment," Patel said, he recognized that abolishing such fuel use at the university is unrealistic.
Divestment "is not a simple thing for Rutgers to do," but "it is a critical time" for the university as it enters the Big Ten Conference and has recently completed its $1 billion fundraising campaign, Patel said. He connected fuel divestment with the "proudest traditions of Rutgers history" – divestment from apartheid-era South Africa, for instance.
Patel said divestment from fossil fuels is "even more critical" than from South Africa "because it impacts even more people," and Rutgers has "some of the best climate scientists in the world," so it should "line up its endowments with its morals."
The anti-oil campaign works with a coalition of other political organizations on campus that deal with environmental issues.
Some in their circle were part of the 150 protesters who went to the People's Climate March in New York City last fall.
That trip was attended by Judith Storch, dean of Rutgers' G.H. Cook Campus, which is home to the university's School of Environmental and Biological Resources, The Daily Targum reported.
Felysse Goldman, president of Rutgers Students for Environmental Awareness, told The Fix the divestment rally achieved its goal because passers-by "seemed interested and stopped and listened" to the protesters.
College Fix reporter Matthew Boyer is a student at Rutgers University.
Like The College Fix on Facebook / Follow us on Twitter
IMAGES: Matthew Boyer