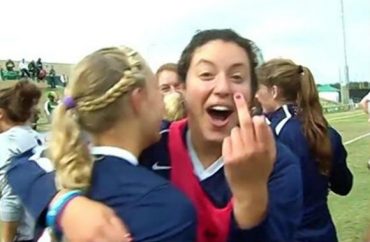 No punishment for male athletes with worse behavior
Giving the middle finger after winning a soccer game was all it took for Noriana Radwan to lose her full athletic scholarship at the University of Connecticut.
Now she is suing the university for violating Title IX by punishing her more severely than a male athlete would have been.
In a lawsuit filed in federal court in Connecticut, Radwan also accused UConn officials of violating her First Amendment rights and constitutional rights to equal protection and procedural due process.
Now a player at Hofstra University on a partial athletic scholarship, she implies that defendant Leonard Tsantiris, her old coach, wanted to free up her scholarship money for a player he was trying to recruit.
What is 'serious misconduct'?
In the celebration that followed Radwan's Huskies beating the University of South Florida in penalty kicks to win the American Athletic Conference championship in November 2014, she flipped off the ESPNU television camera that was broadcasting the live game.
The lawsuit claims Tsantiris initially told Radwan she would only be temporarily suspended from the team, because she had simply made a "silly mistake."
Noriana Radwan First Amendment lawsuit against University of Connecticut by The College Fix on Scribd
The coach issued a press release soon after, apologizing for Radwan's "obscene gesture" in the context of celebrating.
After meeting with UConn's then-athletic director, defendant Warde Manuel, Radwan was assured she would not have her scholarship revoked, according to the suit.
A month after the incident, however, she was notified by Tsantiris that her scholarship was being revoked for "serious misconduct."
MORE: Harvard punishes men's team for past team's 'crude' comments
There is no definition of "serious misconduct" in the UConn 2013-2014 Student-Athlete Handbook, which the suit says also applied to the following academic year.
It does state:
If the student-athlete does not correct the behavior, the head coach will notify the sport administrator of intent to recommend a student-athlete for non-renewal of athletics grant-in-aid and present supporting documentation. It is the Division of Athletics policy and philosophy to continue grant-in-aid unless a severe case would warrant recommendation of nonrenewal.
University of Connecticut 2013-2014 Student-Athlete Handbook by The College Fix on Scribd
Asked by The College Fix whether "serious misconduct" has a set definition in UConn Athletics or is decided on a case-by-case basis, a UConn spokesperson said the university had no comment on "the lawsuit you are referencing."
The spokesperson again declined to say how a finding of "serious misconduct" is reached, citing the school's refusal to comment on the lawsuit. He then asked twice what other colleges The Fix had contacted.
MORE: Princeton suspends players for 'offensive' emails, won't describe them 
In 2015 the NCAA Southeastern Conference defined "serious misconduct" as "sexual assault, domestic violence or other forms of sexual violence," and in 2016 expanded it to cover felonies and conduct that raises "serious concerns about safety to others," according to the suit.
That means Radwan wouldn't be able to play for an SEC member institution because of her finding and punishment, though her bird-flipping could not be "in any way analogized" to such conduct.
Punished under a private 'pact'
According to the 2013-2014 handbook: "Each coach has his/her own very specific team rules covering everything from conduct to dress code."
It was this "pact" that Tsantiris made his players sign in order to play in the 2014-2015 year, but he never provided a copy to Radwan or any other known players, the suit claims.
The coach violated the state's Freedom of Information Act by refusing to turn over the pact to Radwan's lawyer, if that document indeed was enforced as "team rules" against Radwan, according to the filing.
MORE: Columbia suspends wrestlers for vulgar texts
After Radwan told her coach she would appeal his decision to revoke her scholarship, he initially promised to take her back next fall, according to the suit.
But the following day, Tsantiris threatened to ruin her chances with "prospective transfer institution coaches" unless she "walked silently away" and did not appeal the revocation.
The suit claims that Radwan's revoked scholarship money was used by Tsantiris to entice a potential recruit at the University of Notre Dame on a "fall semester break" scouting trip.
It was "an opportunity he could not resist at any cost," it says: That recruit declined to transfer to UConn, though, and it's not clear what happened to the money.
Gave her an ambiguous deadline
Radwan claims UConn violate NCAA due process rules by ruling that she had not submitted an appeal within the required "fourteen business days" of the issuance of the cancellation letter by defendant Mona Lucas, director of student financial aid services.
Lucas's initial letter, though, says the clock starts upon "receipt" of the letter, the suit says: UConn should have simply given Radwan a "true deadline."
MORE: Columbia violates own rules by punishing lewd private messages
By giving Radwan a "confusing hearing timeline and 'deadline' date" for the appeal, and depriving her of a hearing entirely, UConn violated NCAA bylaws, its own handbook and the "student code" that governs all university students.
UConn's list of disciplined athletes in the 2014-2015 year, obtained under FOIA by Radwan's lawyer, does not mention her discipline at all – showing that Tsantiris apparently didn't record his cancellation of her scholarship, the suit says.
The university not only severely punished Radwan for run-of-the-mill "unsportsmanlike" conduct, but Tsantiris personally benefited from the decision – which puts him "far closer" to "serious misconduct" under NCAA rules, according to the suit.
Male UConn players have not suffered such punishment for similar or worse behavior, it says, citing a football player who "booted the dead ball into the stands" and others who were arrested on serious charges but allowed to return to the team.
MORE: Harvard is returning to 'the Puritan era'
MORE: Title IX investigation into 'scouting reports' by soccer players
Like The College Fix on Facebook / Follow us on Twitter
IMAGE: ESPNU screenshot