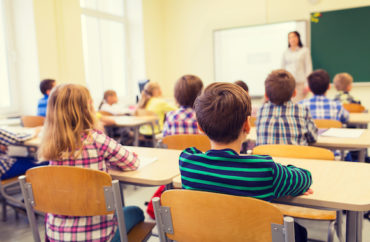 Corwin official repeatedly dodged questions about the instruction
A social justice schooling program meant to train teachers in eliminating racial disparities between students also instructs them how to treat individuals who disagree with the program's ideas, ordering them to "explicitly reject and resist" parents and other outsiders who take issue with the curriculum's content.
A spokesperson for the company refused to directly address this mandate even after being asked about it multiple times.
The program, called "Deep Equity," is offered by Corwin Press, a subsidiary of SAGE.  According to its website, the program was developed by Gary Howard, a self-proclaimed civil rights activist with experience in "social justice, equity, education, and diversity."
Reached via email, a Corwin spokesperson said the program "examines the diversity of schools across many dimensions—race, gender, class, language, sexual orientation, faith, ability, and more—from both a historical and lived experience."
"It is based on the belief that the causes of educational disparities are many and complex; they are not merely based on race, but tied to a range of differences and challenges students and teachers bring to school," the official added, writing that the program "provid[es] teachers with a fluid and holistic way of understanding cultural lenses and avoiding placing fixed identity markers on anyone."
The program received wide attention after a major report from Tucker Carlson on Fox News. Carlson called the program's contentions "pseudoscience" and said one teacher claimed the curriculum "forces teachers to become racial activists."
Program instructs teachers on 'dealing with resistance'
In addition to its extensive material on social justice, the Deep Equity program also urges participants to align against anyone who objects to the program's claims about race and racism.
A series of slides associated with Deep Equity, available on Corwin's website, makes this dictate unambiguous. "As leaders for Systemic Equity, we must explicitly reject and resist any attempts by anyone in our school district or in the larger community who claims that educational disparities are caused only by poverty. Inequities based on race are real…Race denial perpetuates the problem," one slide says.
The Corwin spokesperson dodged repeated questions about this material. Responding to an initial query of several questions, among which was a question about the "reject and resist" instructions, the official wrote at one point: "Deep Equity welcomes all opinions from parents and others in the community and thrives when a variety of perspectives are discussed openly. While it is based on certain evidence-based tenets and embraces research over other forms of information, we've found that conflicting opinions can lead to incredibly valuable conversations."
The Fix followed up with a more pointed query, asking as a yes-or-no question whether or not Deep Equity encourages teachers to resist those with opposing views. The Corwin official offered an identical response, although she added that the program welcomes opinions from "those who disagree" with it.
Asked the same question regarding Deep Equity's instructions on rejecting opposing views, parent company SAGE Publishing did not respond. Gary Howard also didn't return requests for comment.
On another slide from the presentation, participants are asked: "Doing this work with your colleagues, what might be some resistance BEHAVIORS you will encounter? What might be some of the different SOURCES of this resistance? What are some possible RESPONSES that you and your team could make to deal with these types of resistance? How might some of the activities we have done here be used to either prevent resistance, or limit its impact?"
Organized into a victim hierarchy
Elsewhere the slideshow presents a "Dominance Paradigm" that is apparently supposed to represent that of a non-social justice worldview. It offers numerous examples of one group dominating another, such as human beings over nature, males over females, whites over other races, Christianity over other religions, even "abled" over "disabled" people and "Heterosexual over Other Sexual/Gender Identities."
The presentation also puts forth a "White Allies Action Agenda," which instructs people to "see race," acknowledge the reality of racism and white privilege, and educate other white people. The material also encourages participants to use their "privilege to work for racial and social justice."
Gaps in education between races "are not the 'problem' but merely the symptomatic evidence that we have not yet adequately addressed the deeper causes of systemic inequities. What are the deeper causes we are perpetuating?" the slideshow posits at one point.
A vastly expensive 'way of life'
Deep Equity is expensive. According to The Arizona Daily Independent, the Chandler Unified School District in Arizona determined the program cost around $420,000 to implement there.
Even with the heavy price tag, Deep Equity is relatively popular. It is currently partnered with 22 school districts in the U.S.
On Corwin's official Youtube channel, one of its videos, titled "Deep Equity: Voices of Educators and Students," shares how the program changed one teacher's approach to education.
The instructor, an English teacher from Northdale, Minnesota, states: "I used to think that I had to have a special diversity day, where we pulled out everything that was diverse, and we had a big, diverse discussion about lots of diverse topics, and it was the big, capital 'D' diversity day. And now, I've realized that the principles are a way of life in teaching—they're infused in every lesson."
MORE: Curriculum company sues parent who criticized its math program
MORE: California develops new ethnic studies curriculum
Like The College Fix on Facebook / Follow us on Twitter