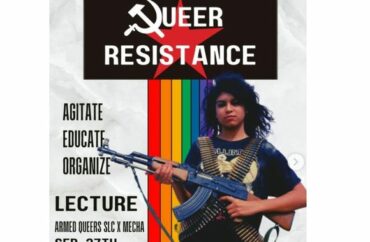 Hosted by group concerned about lack of 'anti-fascist organizing'
A leftist group called "Armed Queers Salt Lake City" plans to speak on Wednesday night at the University of Utah.
The group describes itself as a "socialist LGBTQ organization dedicated to the self-defense, and self-determination, of people's movements."
The promotion ad for the event replaces the "q" in "queer" with the Communist hammer and sickle and says the group will "agitate, educate [and] organize."
Leftist Hispanic student group Mecha is hosting the event. The group started to fill a void in "anti-fascist organizing" and to combat the campus Young Americans for Freedom chapter.
"I got involved in Mecha because I was tired of not seeing any leftist organizing or anti-fascist organizing on campus," education chair Gabriel Merida told the student newspaper.
"The club puts a large focus on action in order to bring about genuine change, especially following the presence of the Young America's Foundation on campus," The Daily Utah Chronicle reported.
"We utilize things like our book club and social media events to discuss revolutionary ideas and empower students and community members to join us in the revolutionary struggle," Merida said.
Young America's Foundation, which originally reported on the event, noted the poster promotes dangerous gun ownership.
YAF editor Nick Baker wrote:
Young America's Foundation unequivocally supports the Second Amendment and the responsibility its privileges demand. In the case of the "Armed Queers," however, the responsibility factor appears to be severely lacking.

The flyer used to promote the militia's event, depicting an individual holding a firearm with her finger on the trigger, is in direct violation of one of the universal rules of gun safety: "Keep your finger off the trigger until you are ready to shoot." This blatant disregard for a fundamental principle of firearm safety raises concerns about the group's approach to responsible gun ownership.
"Furthermore, it is concerning that the stated goal of the LGBTQ+ militia is to "agitate" individuals who disagree with the Left's radical agenda," Baker wrote. "Perhaps, these leftists should reconsider the ideology they claim to stand for. Under the destructive system of socialism they so desperately desire, they certainly would lose the right to own firearms."
Right now The College Fix has a back-to-school campaign to help us continue to support our amazing student journalists. A donation today will be matched thanks to a generous limited-time matching gift opportunity from a friend of The Fix! CLICK HERE for more details — and thank you!
IMAGE: Armed Queers Salt Lake City/Instagram
Like The College Fix on Facebook / Follow us on Twitter