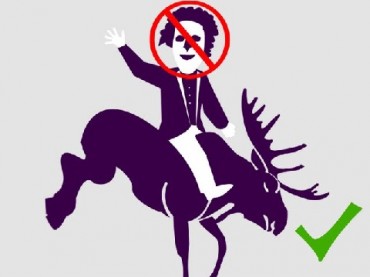 ANALYSIS
There's a growing movement afoot at Amherst College to replace the 195-year-old school's longtime mascot – Lord Jeffery Amherst – with a moose.
What may seem to outsiders as some sort of satirical joke is being taken quite seriously by many on the Amherst campus. A small, private institution enrolling 1,785 students and tucked away within rural Massachusetts, it takes its title as a "liberal arts" college quite literally and seriously.
The clamor began oddly when a moose, whose origins remain unknown, wandered onto the school last May, parading the grounds and catching the attention of the quad's granola crunchers.
"Most of us are dissatisfied with our current mascot, Lord Jeffery Amherst, but as far as I know no one's come up with a sufficiently popular replacement," bemoaned a disgruntled Amherstian on Facebook last May. "Today, a fantastic potential new mascot wandered up the hill and onto the
quad: the moose! The moose is a noble, strong animal. It's fun. It's got antlers. It could totally take Lord Jeff in a fight. What's not to like? … Reject Lord Jeff! Accept the Moose! Who's with me?"
It was the call to arms the school's pacifists had been waiting for.
Born in England in 1717, Jeffery Amherst hailed from a middle-class family and joined the military, proving to be an effective soldier who rose through the ranks and was eventually sent to America during the French and Indian War.
Known for his savvy with logistics, he basically led the effort to successfully kick the French out of North America; thus we have New England today. When next faced with battling Indians, he suggested smallpox-laden blankets on natives, a military tactic that remains the unforgivable sin.
Far before the moose sighting, workshops and hand wringing over Lord Jeffery ensued, and it's within this context that the moose movement grows today, as documented by "The Moose: A New Mascot for Amherst College" Facebook page, complete with the tagline: "Out with the old, in with the moose."
Someone in a moose costume made an appearance at homecoming in November. Then a moose sculpture was spotted in Frost Library. Come Christmas time, a painting of a moose donning a cap and gown found its way into the campus chapel. In January, moose fliers were plastered along school hallways.
The tipping point came in late January, when a moose mascot design competition was launched. The deadline to enter was March 1.
"Amherst College did not have an official mascot during the nineteenth century," explains the school's website. "The evolution of 'Lord Jeff' as the mascot for the school was a gradual process that began in the early decades of the twentieth century."
That tradition is defended by many. A slim majority of 1,706 voters, or 51 percent, favored keeping Lord Jeff as mascot in an online poll conducted by the Amherst Student newspaper. An op-ed in the Student in defense of Lord Jeff by student Michael Johnson argued that while Jeffery Amherst treated Native Americans as enemies, that's what they were to Amherst at that time.
"Figures from history must be treated within the context of their time and circumstances," he wrote. "… Weapons of mass destruction were used by both sides in both World Wars, but we must recognize and understand that the generals in these wars were operating in a situation that had no morally correct solution. … If the mascot must be changed because it is offensive to the Native American community for us to be called the Lord Jeffs, then the name of the college must be changed as well if we are to have any semblance of ideological consistency. Why stop at the mascot?"
"When I think of a Lord Jeff, I don't think of Lord Jeffery Amherst. I think of excellence, in the humanities, science, music, theater, art and athletics," Johnson continued. "… The mascot Lord Jeffs provides a common ground for all of us with past and future generations of Amherst students. Changing the mascot loses this connection. They were Lord Jeffs. We are Lord Jeffs."
Indeed, the Amherst Student has been the choice conduit for the wide variety of opinions on the topic.
A letter to the editor by alumnus David Temin in late January argued "by enabling communities of fans, students, alumni and administrators to suppress these histories, racist mascots embolden institutional racism and colonialism and give tacit shelter to the rampant ignorance of and vitriol often directed towards Native American communities in the present."
The newspaper weighed in a week later with a Feb. 4 editorial: "Moose-scot: A Call to Arms."
"At this point, it's hard to defend keeping the Lord Jeff as our mascot," it declared. "Lord Jeffery Amherst advocated genocide against Native Americans. By celebrating him as our mascot, we tacitly condone both the man and his actions. Not only does this conflict with the values of any modern-day liberal arts institution, our designation as the Jeffs is a cruel irony in the face of increasing pushes for more diversity and representation from Native American students."
Amherst skirted the issue directly in a prepared statement for reporters who have asked where the school stands on the issue.
A college spokeswoman told The College Fix in an email: "Students have begun exploring the various traditions, old and new, at the college, including the mascot. It's a meaningful conversation and we're pleased our students are leading it."
College Fix reporter Michael Sorge is a student at SUNY Purchase.
Like The College Fix on Facebook / Follow us on Twitter
IMAGES: Facebook screenshots