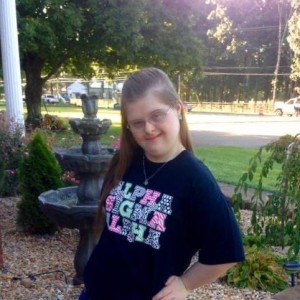 Greek life doesn't get many good headlines these days, and people seem eager to sling mud at fraternities and sororities over the slightest offense, so let's highlight something good for a change.
The Alpha Sigma Alpha chapter at Murray State University in Kentucky just offered a bid to its first sister with Down Syndrome, and she accepted, The Odyssey reports.
Reporter Kelsey Grapperhaus shares her personal experience of seeing Alexis Cain accept the bid:
The room exploded into a standing ovation, hugs, and lots of happy tears from almost everyone. I've never been a part of something so powerful and moving, and to be able to experience that was one of the most life-changing things to happen to me. The applause and emotion in the room was so powerful, and the thought of it still gives me chills.
Cain's mother Camme explains why this is such a big deal:
"Kids with disabilities get left out as their life goes on," Camme said. "It's sad, but true. Mostly they only have family that thinks about them, therefore, they typically get left behind; not many friends or places to go. … Alexis feels very proud to be a part of this group of outstanding ASA young women, and I hope that their decision to accept her will change the attitudes of others as well for a long time to come. She makes you want to be a better person after you've spent time with her."
Alexis herself says she's "really like anyone else":
I have feelings, I like to help people, I'd like to have a job one day, and I hope that others will see that just because a person has a disability it doesn't mean that they are that much different. No one likes hearing the 'R' word. It's not very kind to say about another. I can tell that my sorority loves me already and are already my biggest supporters.
After graduation she wants to open a business with her mother that does not look askance at hiring people with disabilities. Oh, and she wants to meet Taylor Swift and Nick Jonas.
Like The College Fix on Facebook / Follow us on Twitter
IMAGE: Alexis Cain/Facebook