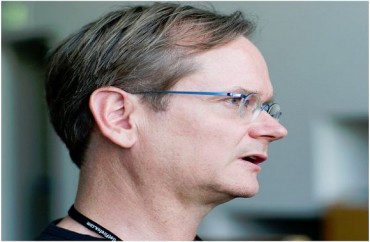 Harvard Law Professor Lawrence Lessig says he would be interested in running as a "referendum [presidential] candidate" with the main goal being to enact "sweeping changes to the nation's political system and ethics laws."
But if elected, he wouldn't be in office long. Lessig said he would resign as soon as "a package of government reforms" is passed, turning over the reins over to his vice president.
His veep would be somebody "who is really, clearly, strongly identified with the ideals of the Democratic Party right now," and offered Massachusetts Senator Elizabeth Warren and current Democratic presidential candidate Bernie Sanders as possible choices.
RELATED: Harvard Prof Wants to End Big Money in Politics with More Money.
Lessig said he would spend the next month testing the waters to determine whether he would have enough support and resources to wage a credible campaign. If he raises $1 million by Labor Day, he said, he will formally launch his candidacy. If not, he will return the money to donors and go home.

"I'm absolutely competing to be the nominee, but obviously there's a bunch of big hurdles to get over to make that possible," Lessig said.

If he moves forward, Lessig said, he would "run a full campaign." He already has about six aides helping with his effort, led by Ryan Clayton. The public relations firm Fenton Communications also is involved and Lessig said he is in talks with two pollsters.

The singular focus of Lessig's campaign would be passing the Citizens Equality Act, a package of reforms that would guarantee the freedom to vote with automatic registration, end partisan gerrymandering and fund campaigns with a mix of small-dollar donations and public funds.
Lessig is a leading proponent of a constitutional convention in order to propose new amendments to the US Constitution.
Some of his desired amendments include the dismantling the Electoral College and establishing public financing of political campaigns.
Like The College Fix on Facebook / Follow us on Twitter
IMAGE: Joi Ito/Flickr