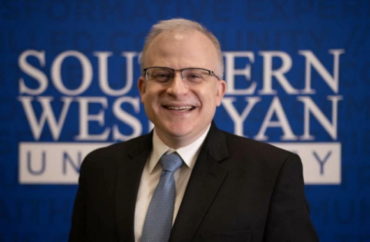 For more than 20 years, Nathan Street has worked in education.
Fifteen of those years, Street served as a school district administrator in North Carolina, but lost his job in 2021 after his employers discovered many of Street's written works on the indoctrination of children in the education system, including his book: "On the Frontlines: Exposing Satan's Tactics to Destroy a Generation."
In an interview with The College Fix, Street said he struggled to find a new job amid headlines in local newspapers alleging he misused grant money and other claims. But despite his tarnished reputation, Southern Wesleyan University hired Street as an assistant professor of graduate education.
That's because as Southern Wesleyan University President Bill Barker enters his eighth month at the helm of the private, four-year institution, he said he has made it a priority to educate critically on critical race theory, and wanted someone like Street fighting alongside him.
"I made it very clear where SWU stands on critical race theory, and we made it very clear in our hiring processes," Barker (pictured) said in a Zoom interview with The College Fix. "Personnel is policy."
"We're not hiring people – and I've been clear since I came here and the Board of Trustees has supported this – who endorse critical race theory. We will have the courage to let faculty or staff go if they are teaching critical race theory."
Barker took the helm of the South Carolina-based campus in July 2022.
In addition to earning a master of divinity from Gordon-Conwell Theological Seminary in 2003 and a doctor of philosophy in Middle Eastern Languages and Civilizations from Cambridge University in England in 2007, he also served as a chaplain with the United States Air Force Reserve, according to a news release announcing his tenure.
"A strong believer in Christian higher education, Barker says SWU is an important institution that needs to be guarded and stewarded well," it stated.
"I believe SWU and I are aligned with a vision for a biblically faithfully, financially affordable, vocationally effective, and academically rigorous institution," Barker said in the release.
One thing Barker said he will not support on campus is an uncritical promulgation of the argument by critical race theorists that racism is embedded into all the structures of American society, including its laws and institutions, creating an unjust and discriminatory society.
Since his inauguration as president, Barker said he has led Southern Wesleyan University on a path to fully educate against critical race theory so their students can think critically and think for themselves.
"We want to teach what it is, we want to teach how it's being used in society, why it's being used in society, but we also want to teach a biblical and philosophical response and critique of it," Barker told The Fix.
"We will hear from speakers who have different ideas and welcome students to engage in that discourse. But we will also guide students through that from a biblical and intellectually rigorous fashion."
"The Bible speaks to us being reconciled with one another across races, across languages, across experiences through Jesus," Barker added. "When we come together without reconciliation through Christ, we may be at odds."
Street, in an interview with The College Fix, said he disagrees that racism is embedded in all parts of American society. He argues sociologists cling to critical race theory for power and use it to preach social justice when it results in the opposite.
"Critical race theory is a wedge that is used to keep people divided," Street said. "If they can keep people divided and disabled because of fear of racism, then they can easily destroy what they will. 'They' are the liberal, leftist, wealthy elites who want to maintain control over the levers of power in the world."
Street and Barker said they believe that justice only exists through trusting Jesus Christ.
With his staff, like Street, behind him, Barker said he hopes Southern Wesleyan University will be an example to universities across the U.S. to teach truth to their students.
"What we need to do is hunker down against critical race theory and live by example," Barker said.
Barker said some people cannot be reasoned with, however, and that is when he leans on God to reach others: "That's when we pray for them, when we treat them kindly. But we live by example rather than by evangelism."
MORE: Theologian fired, called 'terrorist' by Bible college for tweet against homosexuality
IMAGE: Southern Wesleyan University
Like The College Fix on Facebook / Follow us on Twitter