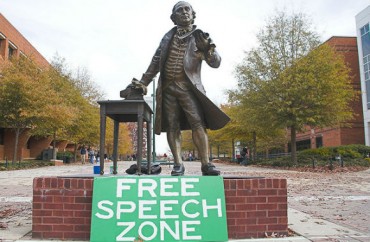 Students learn free speech is worthless from K-12 administrators
WASHINGTON – "The academic progressives have really stepped down from free speech as a value that can never be compromised in the debate with equality."
So said Catherine Ross, a constitutional law professor at George Washington University, at an American Bar Association panel discussion Tuesday in celebration of Bill of Rights Day.
Ross and other First Amendment practitioners said they are worried about the direction that high schools and colleges are going with regard to student speech, as well as a new Supreme Court ruling that may embolden administrators.
Hosted by the ABA Section of Civil Rights and Social Justice, the event drew laughs of disbelief from legal professionals in the audience as the speakers described free speech zones and "safe spaces" like Brown University's much-mocked puppy room.
Imagine if the Free Speech Movement had died in the '60s
There's "too much emphasis on wounded feelings" in classroom discussions, and it can be traced back to K-12 schools trying to prevent speech or "exiling speakers … for their own protection" from hecklers, said Ross, author of Lessons in Censorship.
RELATED: Joe Rogan interviews Christina Hoff Sommers in no-holds-barred interview
Students have been taught that "we don't really mean it" – that free speech is a core value – and they are shocked to learn in Ross's class that free speech zones at public colleges are unconstitutional, she said. When students are subject to "mandatory diversity training" and they can fail if they answer wrong, that's also a violation of their rights, Ross said.
"We might not have the voting rights today" that Americans enjoy if the new view of student speech had prevailed in the civil-rights era, Ross said.
#GOPDebate Happy #BillofRightsDay pic.twitter.com/c9pJ0DpIK4

— ConnieHanniganFranck (@Connie_Franck) December 16, 2015
There's "legitimacy" to telling students "not to pick on" various minorities, especially in high school, said Jenner & Block partner Paul Smith. Gay students and others "don't have effective self-protection" and those who harass them can cite their freedom of religious expression, he said.
"So it goes back to where do you draw the line on threats?" asked Davis Wright Tremaine partner Robert Corn-Revere, referring to an earlier discussion on the confusion created by the Supreme Court's Elonis ruling, which concerned whether violent rap lyrics on Facebook that referred to an estranged wife constituted a true threat against her.
'I'm not making this up!'
Administrators and students seem to believe "there really is a right never to be offended," even by a book cover with a historical photo of a Klansman on it, said Corn-Revere, who serves as counsel to the Foundation for Individual Rights in Education's Stand Up for Speech litigation project.
Corn-Revere blames some of the speech restrictions on the Office for Civil Rights in the Department of Education for "watering down" the definition of what's considered a threat in a school setting. Referring to Brown's puppy room, he said to laughs "I'm not making this up!"
RELATED: 'Massive Litigation Campaign' Launched Against University Speech Codes
Educators must also consider when majority speech can "chill" minority speech, said Steven Freeman, director of legal affairs for the Anti-Defamation League.
Colleges themselves have their own speech rights, at least when it comes to "outside speakers" coming to campus, and students can be inhibited by their professor's expression of an opinion unrelated to class, Freeman said: "There's a power relationship." Yet students challenge professors even on their curriculum choices, Ross replied, citing students who object to learning rape law because it's troubling or triggering.
RT if you agree! #BillofRightsDay pic.twitter.com/C3Ynw4heuZ

— Tea Party Express (@TeaPartyExpress) December 16, 2015
Your school fence is a free-speech-free zone
The Supreme Court's ruling in Walker v. Sons of Confederate Veterans goes far beyond the issue of whether states can block certain messages from specialty license plates, to whether the government can stop private speech by claiming it's actually government speech, Corn-Revere said.
The ruling against the Confederate group has already been used by Iowa State University to defend its decision to block student marijuana activists from advertising their club using the school mascot; a judge is still considering the activists' lawsuit, Corn-Revere said. Even a school fence was ruled to be government speech in a case involving students trying to hang their own banners, he said.
RELATED: Crackdown on specialty license plates is bad for campus speech, group warns
The lawyers agreed the Supreme Court's ruling in the Elonis violent-lyrics case – that criminal intent is required and showing "negligence" is not enough to convict – was "puzzling" because the court failed to say whether "recklessness" showed intent.
Free-expression groups had warned that upholding Anthony Elonis's conviction under a negligence standard could turn students' ill-considered social media postings into criminal violations.
RELATED: Going to pot: Judge says students can sue president for T-shirt censorship
While the lower court's poor jury instructions may have helped Elonis overturn his conviction at the Supreme Court, the ruling showed the First Amendment is necessarily broad in scope, Ross said.
Such cases often involve "really angry people … who say things that normal people really hate," yet are protected speech, she said: What are the First Amendment implications if the government prosecutes people who are "joking around"?
RELATED: College Students' Right To Be Jackasses Online At Risk In Supreme Court Case
Like The College Fix on Facebook / Follow us on Twitter
IMAGE: Cameron Parkins/Flickr