'You're not just fighting for yourself. You're fighting for other conservatives on campus and other students in general to have that right to free speech and freedom of expression'
They called her a white supremacist. They tried to force her to resign from her student government post. They stymied her effort to launch a conservative club.
But despite these trials over the last year, Wichita State University student Olivia Gallegos still stands strong.
"Don't back down because it's what the other people want. Just don't," she said in a recent interview with The College Fix.
Gallegos' troubles began last spring. As a member of Wichita State's student government, she submitted a woman to highlight for Women's History Month as part of a Diversity, Empowerment and Inclusion Committee social media post. She chose Morgan Zegers, founder of Young Americans Against Socialism.
The choice was approved and posted without any issues – for a week. Then it caught the attention of campus keyboard warriors, and the fury came fast. There was clamor for her to resign both by student government members and fellow peers on campus.
In honor of Women's History Month, the Diversity, Empowerment, and Inclusion Committee wants to recognize important women that we admire and celebrate for their achievements and impact to our lives. Today, we recognize Janet Jackson, Morgan Zegers, and Shoshana Zuboff! pic.twitter.com/vbK6Lij7po

— Wichita State Student Government Association (@WichitaStateSGA) March 17, 2021
"Basically by highlighting a conservative, I was [called] a white supremacist and [accused of] giving a platform to white supremacy," she said. "I just laughed, because I'm Hispanic."
But the effort to force Gallegos to resign never came to fruition.
"I had to sit through a 2.5-hour senate review board where they ultimately determined, 'You did nothing wrong. But we'd like you to meet with diversity and inclusion to learn how to respond to things like this, and use this as a learning experience,'" Gallegos said.
She refused.
After an attempt by her peers to get administrators involved, citing student conduct rules, the matter was eventually dropped, she said.
'It felt like the weight of the world was on my shoulders at times'
Dealing with the situation, Gallegos said, felt isolating at times.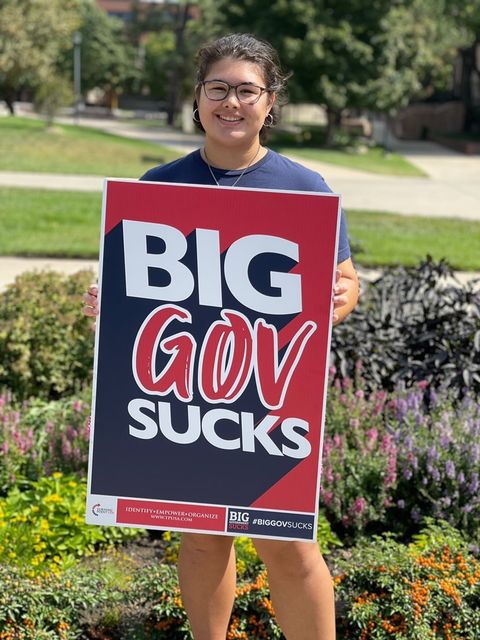 "You're on this island all by yourself," she said. "Yes, you have support from the community and from everybody else. [But] in five weeks' time, the media moves on, everyone else moves on with their lives. I'm still here. I'm still a student and dealing with whatever the aftermath is."
Despite everything, Gallegos managed to maintain her position on the student government.
"I ended up running a write-in campaign again with SGA and got reelected, which was pretty funny," she said.
Gallegos' focus remained on ensuring every student has the right to express their beliefs freely and engage in open debate.
"It felt like the weight of the world was on my shoulders at times because this was going to set precedent for other conservatives in SGA and what can happen to them," she said.
"Making sure that nobody else can get pushed around and bullied like I was, was a big deal to me. Because that shouldn't happen, and that shouldn't stand."
Gallegos subsequently formed a Turning Point USA chapter – and had to fight for recognition on campus
Months later, Gallegos was also involved in the Wichita State TPUSA chapter's battle to gain recognition as a student organization.
She founded the chapter in October 2020 after hearing about the organization at a conference and helped file for Registered Student Organization status in August 2021, which would give the group official recognition at the public university.
"The senate just took week after week after week of 'There's no senate meeting,' or 'There's no timely business,' or 'We're just really swamped in ways and means so we're not going to invite you to come speak yet," she said.
Finally getting the matter before the Student Senate wasn't the end of the situation.
"Basically, what ended up happening was there was a motion to table our organization because we had been waving the Gadsden flag when we were tabling the day before. That prompted the senator who made the motion to go off on a whole tangent saying the Gadsden flag is racist," Gallegos said.
The Gadsden flag is known for its bright yellow color and "Don't Tread on Me" message.
According to the school newspaper, The Sunflower, multiple student senators raised concerns about "campus safety and hate speech." Others, the paper reported, cautioned about the consequences of allowing TPUSA on campus.
"I encourage everyone in this organization … to deeply consider the consequences of the type of blind nationalism this organization is encouraging," student senator Kathlynn Short said.
Even after FIRE got involved and sent the Student Senate a letter, Gallegos said TPUSA was still denied official recognition. After filing an appeal, the student supreme court overturned the decision in late October 2021.
After FIRE's intervention, Wichita State finally recognized a campus chapter of TPUSA.

Now student government senators want to wash their hands of having to approve or deny club recognition. Why that doesn't bode well for student speech at @WichitaState: https://t.co/y6duP59oKb

— FIRE (@TheFIREorg) November 10, 2021
Gallegos said she believes TPUSA plays an important role on campus, even more so after the experiences she has been through.
"It is a culture war on campus and on college campuses across the nation," Gallegos said. "So being able to provide a space…a group for other conservatives to come together and realize they're not alone on these islands by themselves, is really nice and really helpful for our student community."
'You're not just fighting for yourself': Advice for students 
Despite these two major challenges and oppositions, day-to-day interactions on campus have been productive. Gallegos said students rarely give her chapter a hard time while tabling.
"They may disagree," she said. "They may be on the fence about how they feel, but at the end of the day, both parties leave that conversation [thinking], 'That was a good civil discourse, that was a good little debate of just how each party feels.' And nobody left saying 'Oh you're a horrible person ' or 'Oh you're a monster.'"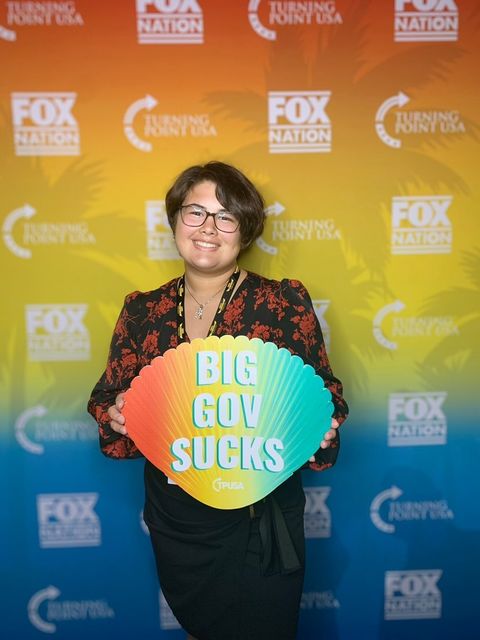 That's the goal – creating an environment where students can have civil discourse, even when disagreement is heated. As Gallegos notes, everyone has a right to speak, but no one has a right to push anyone out of the public square.
For conservative students who find themselves in a similar situation, Gallegos suggests they limit engagement on social media and lean on their support systems.
"My biggest advice is to not engage on social media with a lot of it…Say your piece and be done," she said. "It feels like everything is crashing down around you and that the end of the world is near sometimes, but [know] that there are people backing you and that you can reach out to your support system, whoever you have behind you and whoever has your back."
Most of all, she said she encourages students to make sure they are not forced to do something they disagree with.
"You should stand firm in your beliefs and just keep fighting it because you're not just fighting for yourself," she said. "You're fighting for other conservatives on campus and other students in general to have that right to free speech and freedom of expression."
MORE: Free speech victory: Wichita State student court overturns TPUSA club denial
IMAGES: courtesy photos
Like The College Fix on Facebook / Follow us on Twitter