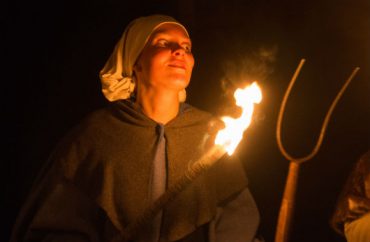 Stanford Law Prof. Michele Dauber has built a new reputation this year as a crusader for stiffer penalties against people convicted of sexual assault.
But a sizable chunk of the school's new graduates thinks she is setting "a dangerous precedent against the exercise of merciful discretion in our criminal justice system."
They wrote an open letter to Dauber, asking her to back away from the recall campaign she started against Judge Aaron Persky for the six-month jail sentence he issued to ex-student Brock Turner, who was convicted of sexually assaulting an unconscious woman.
"This injustice must go before the voters!" – @mldauber #recallpersky #20minuteshttps://t.co/g62yJrekyt pic.twitter.com/IkDw0aZ6cH

— Recall Persky (@RecallPersky) June 10, 2016
Nearly a third of the class – 53 out of 180 students – signed the letter, telling Dauber that while they agree with her "goals" and disagree with the sentence Persky gave Turner, her recall campaign is a direct attack on progressive legal reforms:
We have deep reservations about the idea of a judge — any judge — being fired over sentencing decisions that the public perceives as too lenient.

As we've learned during our time at the law school, judicial independence is a cornerstone of due process and an essential prerequisite of a fair criminal justice system. … After decades of mass incarceration driven by mandatory minimums and other punitive sentencing regimes, we believe that judicial leniency is already too scarce, even though we strongly disagree with how it was applied to Turner. And in a world where judges believe they are one unpopular sentencing decision away from an abrupt pink slip, it will only grow scarcer.
MORE: Only the online mob wants to brutalize Brock Turner
They ask her to show "humility":
If we demand that Judge Persky immediately hand over his gavel for acting on his empathy for this defendant, how we can we credibly assure any other judge that her hand need not waver when the human circumstances of a case seem to call for compassion?
One-third of Stanford Law's graduates condemn @mldauber's effort to recall Judge Persky:https://t.co/NiQ78AeDfc pic.twitter.com/1X8IPpvWcT

— KC Johnson (@kcjohnson9) June 22, 2016
Many of the signatories have worked with Stanford's Three Strikes Project, which works with clients serving life sentences for non-violent felonies who are now eligible for early release under California reforms:
In that role, we had to ask county judges like Aaron Persky to grant early release to men and women serving life in prison because the people of California once believed that our clients' mistakes made them irredeemable. Even when an inmate has made great strides in prison … granting that second chance is a delicate decision that requires courage on the part of judges: they have to bear the risk, however remote, that the petitioner will abuse that mercy in ways that provoke public backlash against their decision.
MORE: Brock Turner's sentence harsher than most people realize
Students aren't the only ones worried by Dauber's campaign. Harvard Law Prof. Jeannie Suk wrote in The New Yorker that Dauber is naive if she thinks her campaign will only impact rich white guys like Turner:
The current recall movement could have the effect of pressuring judges to play it safe by sentencing more harshly—and there is no reason to believe that will be true only in cases with white male rape defendants.

Nonwhite men are more likely than white men to be perceived as violent, predatory, or acting without consent, by complainants, police, prosecutors, witnesses, juries, and judges—particularly if a complainant is white. That bias translates into inequality at all levels of the criminal system, from reporting and arrest to conviction and sentencing.
Suk notes this isn't exactly a groundbreaking thesis she's advancing.
Georgetown Law Prof. Paul Butler, a former federal prosecutor "who has counseled rape survivors," argued in The New York Times that a successful Persky recall would "inevitably leader to harsher punishment" for everyone "because, politically, it's always safer for a judge to throw the book at a convicted criminal":
The message sent by a recall would be that before an elected judge hands down a sentence, she should think about how popular her decision will be with the public. …

The people who would suffer most from this punitiveness would not be white boys at frat parties. Almost 70 percent of the people in prison in California are Latino and African-American. Those are the groups that would bear the brunt of zealous punishment.
Dauber has a choice to make. She can advance her reputation – maybe the next Gloria Steinem? – by preaching the brutalization of one white kid and the evisceration of judicial independence.
Or she can work to improve a system that comes down hardest on black and brown bodies.
Let's hope she shows some "humility."
MORE: Student does five years in prison for fake rape
Like The College Fix on Facebook / Follow us on Twitter
IMAGE: Hans Splinter/Flickr