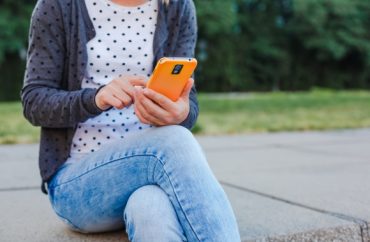 Group petitions corporation to address 'device dependence'
A group of students from Stanford University recently protested outside of Apple's headquarters to demand that the tech giant address the problem of "phone addiction," demanding that Apple help them reduce the "significant" amount of time they spend on their phones in order to increase the amount of "significant human interaction" in their lives.
In an email to The College Fix, Stanford Students Against Advice Addiction spokesman Sanjay Kannan wrote the group wishes to "take our concerns to Apple by engaging with consumers and employees in a series of demonstrations."
"Since device dependence is not a part of Apple's business model, and since Apple is an industry trendsetter, we thought they were uniquely positioned to help address the problem," Kannan told The Fix.
The group's protest occurred earlier this month outside of Apple's Palo Alto store location, The Stanford Daily reported. Activists held signs detailing statistics on phone addiction and featuring slogans such as "Honk! If you're addicted to your iPhone."
At that protest, the group also handed out a statement, which included claims that iPhone is a "gateway" to "addictive services" such as Facebook, and that Apple could help reduce alleged iPhone addiction by enabling "transparent usage patterns" on its phones, as well as "modes to reduce distraction."
Kannan, who said that the activists' interaction with Apple is meant to be "overwhelmingly friendly," did not specify an explicit amount of smartphone usage the group considers to be healthy.
"We don't have a particular amount that we stand behind, but there is a healthy medium for each individual," Kannan said.
Reached for comment via email, Apple spokesman Ted Miller directed The College Fix to a statement released by Apple back in January, which stated in part that the corporation offers "intuitive parental controls built right into the operating system" to help parents manage their children's device usage.
"We think deeply about how our products are used and the impact they have on users and the people around them. We take this responsibility very seriously and we are committed to meeting and exceeding our customers' expectations, especially when it comes to protecting kids," the statement continued.
Recently a group of Apple shareholders wrote an open letter to the company voicing their concerns for negative consequences of overexposure to screen time.
"As shareholders, we recognize your unique role in the history of innovation and the fact that Apple is one of the most valuable brand names in the world," the letter states.
The shareholders cite studies that showed a host of negative consequences associated with overexposure to screen time, including as depression, unbalanced sleep patterns, and anxiety.
"It is also no secret that social media sites and applications for which the iPhone and iPad are a primary gateway are usually designed to be as addictive and time-consuming as possible, as many of their original creators have publicly acknowledged," the letter continues.
Samsung, another manufacturer of smartphones, did not respond to a request from The College Fix seeking comment about smartphone addiction.
MORE: University sets up 'texting lane' for smartphone-obsessed students
MORE: New app rewards students for staying off cell phones in class
IMAGE: Shutterstock
Like The College Fix on Facebook / Follow us on Twitter