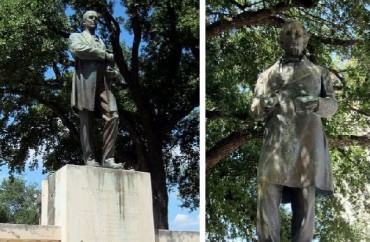 Campuses are not taking down troublesome monuments for the sake of 'context'
The anti-statue zeitgeist that is currently sweeping the nation is actually nothing all that new—earlier this year Pepperdine University ripped down a statue of Christopher Columbus because students were triggered by it, or something—but it is currently experiencing a sort of vogue: students and administrators, emboldened by the low-grade hysteria of nationwide statue phobia, have rededicated themselves to toppling and/or burying any type of monument that might give offense. At the University of Texas-Austin they took down three Confederate statues in the dead of night, while recently Stockton University in New Jersey "removed a bust of its namesake, Richard Stockton, from its library entrance" because the man in question owned slaves.
The Stockton case in particular is illustrative: the university claims that it seeks to "[reinstall] the bust in a setting that explains its historical context and controversy." This has been a common theme throughout much of the heated statue debate: these monuments need to be "recontextualized" in a way that highlights the moral failings of the people they represent.
This is actually, all things considered, not that bad of an idea. It also seems to be largely moot. It seems highly unlikely, after all, that the students engaging in authentic hysterics over pieces of marble—the same students who also probably demands "trigger warnings" on their copies of Catcher in the Rye and who believe that Sushi Night at the dining hall is a form of terrorist colonialist appropriation—are likely to want to engage with sculptures of dead white male slaveowners. Perhaps a "recontextualized" statue might interest a few less-overwrought students on campus—but how many? In all likelihood, any monument or figure being torn down and moved to a more sensitive and reflective setting will probably languish in dusty irrelevance in the years ahead.
Probably no great loss, all things considered. And yet it does throw into stark relief just what the statue frenzy is all about: power, not public discourse. The agitated efforts of student activists to tear down history is not a move toward spirited public debate but a flexing of political muscle, a kind of shot across the bow of our national political dialogue. There is a reason so many colleges and universities have begun preemptively dismantling their nominally offensive statuary before any students even complain about it: because they have seen what a small, angry, sometimes-violent faction of students are capable of, and they want to placate this faction before it arrives on their own campuses.
There is a legitimate debate to be had about what to do with monuments to complex, troublingly complicated historical characters. But we're not really having that debate, not now; we are instead witnessing a sort of mob mentality discourse played out like some kind of vigilante mob justice campaign. The statues will continue to come down, and in all likelihood we won't miss very many of them very much. But it will not stop with the statues; it never does. And what comes next is something we should all be concerned about.
MORE: Thomas Jefferson statue at Columbia protested as 'symbol of violence against black and brown bodies'
Like The College Fix on Facebook / Follow us on Twitter