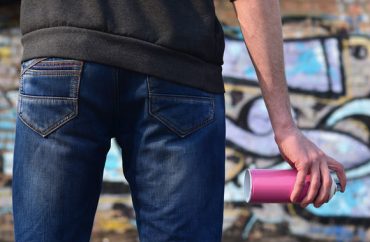 Statue derided as 'an emblem of white supremacy'
The anti-statue mania sweeping the nation has claimed a new iron victim: a monument of Thomas Jefferson on the grounds of the University of Virginia.
The statue, which stands just outside of UVA's Rotunda, was splashed with red paint sometime last weekend, according to the Charlottesville Daily Progress.
The statue has since been cleaned. Police are currently investigating the crime as an act of vandalism.
The statue's vandalization comes while UVA still reels from the white nationalist rally that took place on its grounds several weeks ago.
A day or so after the statue's vandalization was discovered, several UVA groups, including the Black Student Alliance, presented UVA president Theresa Sullivan with a "list of demands," according to the Progress: 
Those demands include removing Confederate plaques from the Rotunda; denouncing and banning Unite the Right organizer Jason Kessler and other hate groups from Grounds; requiring all students to take a class about white supremacy and slavery as they relate to Thomas Jefferson, the founder of UVa; and taking action to increase the enrollment of African-American students to more accurately reflect the state's demographics.
The list of demands also asserted that the Jefferson statue "serves as an emblem of white supremacy, and should be re-contextualized with a plaque to include that history."
Apparently responding to rumors that the statue in question was on the chopping block, UVA professor Larry Sabato tweeted assurances to the contrary:
The Jefferson statue @UVA Rotunda is not going anywhere–and those of you spreading rumors to the contrary just play into neo-Nazi hands.

— Larry Sabato (@LarrySabato) August 25, 2017
The Jefferson statue's vandalization comes at a time when other colleges are removing monuments and other artwork that students might find offensive. Randolph College, in Lynchburg, Virginia, recently removed from its campus a statue of a Confederate soldier, while Stockton University in Galloway, New Jersey removed a bust of its namesake, Richard Stockton, from the campus library, due to Stockton's ownership of slaves.
Read The Daily Progress's report here.
MORE: Thomas Jefferson statue at Columbia protested as 'symbol of violence against black and brown bodies'
Like The College Fix on Facebook / Follow us on Twitter
IMAGE: Shutterstock