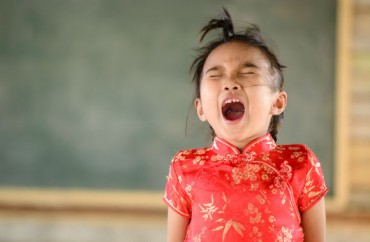 Two years at Columbia 'has cost most of my parents' money'
Students of Asian descent are often seen as a financial godsend to American universities because administrators assume their families can comfortably pay full tuition.
But that's not always the case, and it feeds the impression among some applicants that they are valued only for their money – even when a child's education breaks the family bank.
As Asian and Asian-American families feel the pinch of sending their children to American universities, activists are pressuring the federal government to investigate Ivy League schools for allegedly holding applicants with Asian backgrounds to higher standards than non-Asian applicants.
Columbia University sophomore Janine Ko has resorted to crowdfunding her education after the financial aid office stuck her family with a whopping $33,000 bill for her tuition and living expenses for the 2015-16 academic year, the Columbia Daily Spectator reported.
In the past month Ko has raised about $2,500 toward a target of $15,000 through GoFundMe, to cover her room and board "as well as books, student life fees, and miscellaneous" charges, she wrote on her fundraising page.
Though she had an elite education at the Phillips Academy and long list of extracurriculars, Ko wrote that she worked "several part-time jobs" her first year at Columbia while maintaining a 3.8 GPA, and has worked 20 hours a week this summer on top of a stipended internship and "volunteer gig."
Ko posted the "bill estimate" Columbia gave her for her sophomore year.
She declined to talk to The College Fix about her family's finances and whether she sees the financial-aid snub as driven in any way by her ethnic background.
An entire useless program built on Chinese money?
Yanchen Liu, a graduate student working in Columbia's religion department, isn't so reticent.
He suspects that a prevalent attitude among Columbia higher-ups is that the school simply has "too many Chinese students." Liu pointed The Fix to the statistics department as a case in point.
The "scandal," according to Liu, is that the department is so full of Chinese students that Chinese media have taken notice. In May, BuzzFeed editor Tom Gara tweeted a picture of the 2015 graduation list from the master's in statistics program, which showed about four in five of the grads had Chinese names.
In an interview, Liu said he thinks Chinese students dominate the master's program in statistics for two reasons. First, that program is relatively "easy" so it gets more applicants across the board, and second, many of the applicants can "pay for their tuition in full – with their parents' money."
Though some students can get Chinese government aid through "special contracts" in which they agree to "go back to China and work for a couple of years"  – making their enrollment attractive to Columbia – Liu said none of the Chinese students he knows in the program is independently wealthy.
Liu himself isn't. "Basically, two years' Masters study at Columbia has cost most of my parents' money," Liu lamented to The Fix in a Facebook chat. "I feel really guilty about this, but sadly, it is the case for many Chinese grad students." 
Unlike the common route taken by American students, "I have never heard of any Chinese students going to grad schools with money borrowed from banks," Liu said.
In contrast to the master's program, only about three in 10 students in Columbia's statistics Ph.D. program are Chinese, China-focused news outlet GBTimes reported. Those students are largely funded by school aid, not their own tuition payments.
One of the responses to Gara's tweet, about the master's degree graduates, implied the master's program was a throwaway: "statistics MA's are mostly a university profit center–try to get a meaningful job with one."
These are the 2015 grads of Columbia's masters degree in statistics: pic.twitter.com/4BJU1tJZOg

— Tom Gara (@tomgara) May 17, 2015
Cultural tensions between Columbia and its Chinese students were on display earlier this year, when the school fired a teaching assistant, Longxi Zhao, shortly after he used the word "fucked" in an email to his students.
Zhao, who was in America on an academic visa, claimed that he didn't know the word was offensive because English wasn't his first language.
Lower-performing students get into the Ivies while Asians are shut out
Meanwhile, an Asian-American group that has accused Harvard and other elite schools of keeping out high-performing Asian students, relative to applicants of other races, has filed a new federal complaint about a rejected Asian-American student.
Writing to the Office for Civil Rights in the Department of Education, the Asian American Coalition for Education asked for an investigation into why the accomplished female student was rejected by Yale, Columbia, Duke, University of Pennsylvania, Brown, Dartmouth, Cornell, University of Chicago and Amherst College.
The unnamed student had "near-perfect grades and test scores" and "tremendous regional and national-level accomplishment in a number of extracurricular activities," the coalition wrote.
"More than 16 classmates with lower grades, test scores and equivalent or inferior extracurricular accomplishments were accepted into Ivy League or other top colleges," in contrast, it wrote. "All of them were not Asian."
Yukong Zhao, the coalition's organizer and no relation to Columbia's Longxi Zhao, told The Fix in a written statement that despite his group's complaint against Harvard, the school "and other Ivy League Universities has [sic] not made any changes in their discriminatory admissions processes against Asian-Americans."
Zhao said he's toured New England, south Florida and California in recent months "and heard many more sad stories" like the rejected Asian-American female student's.
"We encourage more Asian-American students to file complaints" if they were rejected by top universities, Zhao said, promising his coalition will continue filing complaints against Ivy League schools "who treat Asian-American applicants unfairly and illegally."
The Department of Education did not respond to Fix inquiries about the complaints.
Like The College Fix on Facebook / Follow us on Twitter
IMAGE: Shutterstock, Janine Ko/GoFundMe