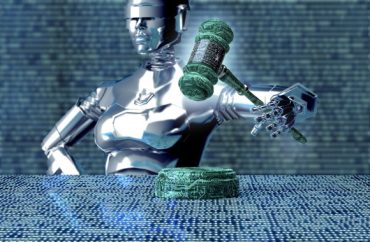 Law professor says emerging artificially intelligent attorneys will displace some human lawyers
For those thinking of law school, keep in mind that technology may revolutionize the profession before you earn that J.D.
In the research-driven, labor-intensive legal profession, the age-old question of man vs. machine is being answered as some law firms have begun to use an "artificially intelligent attorney" to research and hash out legal issues – a trend that legal minds predict will displace some human lawyers.
Called ROSS, the robot lawyer uses IBM's cognitive computer program Watson to learn from experience to gain speed when answering legal questions, according to its creators. It can read through the entire body of law to return a cited answer, monitor the law to recognize other court decisions that could affect the case at hand, and even glean conclusions from more than one billion legal documents per second, they add.
Its creation comes on the heels of a 2014 analysis that predicted artificial intelligence will cause "structural collapse" of law firms by 2030.
As for the robo-lawyer, one law professor said the technology will displace some workers.
"Computers can replace human labor — the work lawyers do for discovery — and this will have an impact on the number of associates hired," University of Tennessee Professor of Law Benjamin Barton told The College Fix in a telephone interview. "It will displace people, but won't destroy the profession."
Barton said the emerging technology is still developing – and believes it doesn't forecast complete doom for human lawyers. At least not yet.
"In my opinion, right now ROSS is just a somewhat souped up version of legal research," he said. "The people who are selling these machines want them to augment human intelligence, not replace it. These machine intelligences work alongside humans and make them more intelligent."
Plus, only large law firms are going to be able to afford AI computers to perform their legal research right now, and that means current job displacement will occur only in certain market segments, he said. Moreover, a need for human lawyers will continue to exist, because there will always be questions too layered and nuanced for a computer to answer, he added.
"The reason it is hard to do a complete computer replacement of a human for a complicated legal problem is that there are so many moving parts, so much context, and so many interlocking sources of law that are hard for humans to put together, let alone machines," Barton said. "It's going to be a while before a computer program is able to answer our most complicated questions."
On the bright side, the introduction of AI technologies has the potential to save only the most interesting work for the human lawyers — and save middle class Americans money when they seek legal counsel, he said.
"The humans who are left in the profession are going to be left doing really interesting work: answering the complicated, strategic, and fun questions," Barton said.
MORE: Law schools dominated by Democrat professors, research finds
Barton also points to the economic advantages of AI in his book Glass Half Full: The Decline and Rebirth of the Legal Profession.
"Having a human do legal work is really expensive, even for middle class people," Barton told The College Fix. "Letting machines do some of this work is great for the market and it is great for people who need legal work."
Noting the prevalence of online legal search engines such as LegalZoom, Barton suggested that these websites use technology to complete relatively low-level tasks at a fraction of the cost of hiring a lawyer. People from all socioeconomic statuses who have access to a computer are able to ask legal questions without contacting a human lawyer.
And University of Tennessee Professor of Law Glenn Reynolds points out that advancements in technology have already replaced lawyers in several areas.
"The legal profession is being squeezed by automation at the top and the bottom," he said in an email to The College Fix. "At the top, sophisticated text-recognition has cut out the lucrative practice of having first-year associates go through boxes of documents at exorbitant rates. At the bottom, general-practice lawyers are losing out to LegalZoom and rocketlawyer. In between, the computerized dockets and teleconferencing of federal courts slash billable hours. The ABA [American Bar Association] will fight this, but it will lose."
Underscoring that is the 2014 study that forecasts that artificial intelligence will cause the "structural collapse" of law firms by 2030.
"The firms that will be most affected would be the very large, high-value commercial firms whose associates expect to be given interesting work…eventually each bot would be able to do the work of a dozen low-level associates. They would not get tired. They would not seek advancement. They would not ask for pay raises. Process legal work would rapidly descend in cost," the study states.
Ultimately, the impact of artificial intelligence in the legal profession will only be known with time. According to co-founder of ROSS, Andrew Arruda, the law firm Baker & Hostetler, among others, have already signed licenses with the robo-lawyer.
Like The College Fix on Facebook / Follow us on Twitter
Like The College Fix on Facebook / Follow us on Twitter