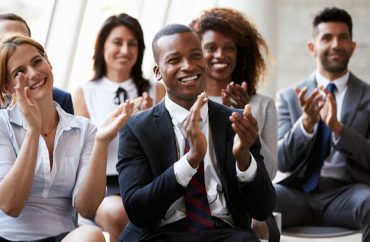 University spokesman accidentally joins protest
DePauw University activists do not appreciate being encouraged.
When they showed up carrying racial protest signs to the university's annual DePauw Dialogue on Wednesday, the audience started applauding.
"Stop fucking clapping!" some protesters yelled, a student who was near the commotion told The College Fix. They later complained about the applause on social media.
The protesters' irritation with the spotlight didn't end there. At the end of their campus march, they "asked a photographer to stop taking pictures and confronted him when he refused," The DePauw student newspaper reported.
DePauw Dialogue includes lectures and breakout sessions on "bias, difference, privilege, and identity," intended to help faculty, staff and students "examine their individual role building a shared community."
This year's speakers were Vernon Wall, whose "minimum speaker's fee" as founder of the Social Justice Training Institute is $4,500 a day, and Keith Edwards, an educator on "men's identity and social justice education." (Edwards only lists his rates for "individual coaching sessions" and 4- and 12-pack sessions.)
Vernon Wall bringing laughter in the @jhuorientation session "One Better World!" #GoHop pic.twitter.com/tsqsOHGX4Z

— JHU Student Life (@JHU_SL) August 30, 2016
'This is not a show, do not clap for us, that's patronizing'
Campus protesters gave the administration a sense of what was likely at Wednesday's Dialogue when they disrupted a "family weekend" event Saturday, The DePauw reported.
During President Mark McCoy's address to parents, students silently held signs that asked the administration to "make the campus safer for students of color." When the floor was opened to questions, students of color reads letters describing how they felt unsafe, according to The DePauw.
At Wednesday's Dialogue, more than 40 protesters marched into keynote speaker Wall's address about 40 minutes in. They were wearing all black and holding signs with messages including "I Don't Get It" and "Hands Up, Dont Kill ME [sic]."
One of the protesters was none other than DePauw's executive director of media relations, Ken Owens. He told The Fix in a phone interview that a protester handed him a sign, which he held, but Owens "didn't look to see what it said."
MORE: Race activists target 'shady people of color' for thinking for themselves
Owens said the United States is in a difficult place right now with police-involved shootings and resulting riots in Charlotte and Ferguson.
Wall had been discussing his seven concepts for creating a more inclusive and caring community. When protesters marched in, according to The DePauw, Wall pointed at their signs and "some in the audience began to clap."
Lily gymnasium is empty after keynote speaker Vernon Hall canceled his speech to recognized students of color protesting. pic.twitter.com/B3pQ93nv0x

— TDP – The DePauw (@TheDePauw) September 28, 2016
Student Penelope Ramirez scolded the audience: "This is not a show, do not clap for us, that's patronizing."
The student who told The Fix about the "stop fucking clapping" line said the protesters were "chirping at us in the stands" during Wall's talk.
"They're the ones who pigeon hole [sic] themselves into being close[d] minded thinkers who want nothing more than sympathy [because] they wouldn't know what to say in a discussion," the student said in a chat message.
The protesters' gripes about the applause continued on Facebook, using the hashtag #DearDePauw.
On the unofficial DePauw Class of 2020's public Facebook wall, student Justin Collado wrote:
#DearDepauw It was very shocking and upsetting when the student body and faculty besides my fellow community decided to clap at our struggle, our voices. It felt as if we were not taken seriously. We are here, as a community, to make a change and see difference on this campus. We will not be looked as a joke.
Another student, Greisy Genao, wrote on her page: "#DearDePauw we are not a display or a showcase for your white sympathy."
Resident Assistant Amata Giramata went on a tear, writing on hers: "#DearDePauw why is your first reaction to my protests, clapping? My activism is not a show."
Another: "#DearDePauw students of color do not need your white tears or white sympathy."
Paris Murray took to Facebook to criticize The DePauw for identifying her as a "leader."
"Stop giving labels in an attempt to identify students seen as 'the go-to' or the 'fall guy' to blame," Murray wrote.
MORE: Protesters hijack conservative student meeting, call them 'white supremacists'
'Conservative values in American politics'
Wall released the Dialogue crowd early, after their applause had been spurned by the protesters, to attend morning and afternoon breakout sessions on "community and American democracy."
Some of the topics included: "Masculinity," "Conservative values in American politics," "Implicit bias on college campuses," "Navigating intersectionality in fraternities," and "Deconstructing power, privilege and oppression to build community for all."
After the morning breakout sessions, protesters marched across campus chanting "No justice, no peace" and "ain't no power like the power of people because the power of people don't stop."  They also chanted "No justice, no peace! No racist police."
Prior DePauw Dialogue speakers have included Derald Wing Sue, a Columbia University professor of counseling psychology who helped popularize the concept of "microaggressions." Sue has spoken out against how his research has been used to justify punishing students for their speech.
Wall did not respond to a Fix request for comment on his experience at DePauw Dialogue.
MORE: Microaggression inventor hates how colleges are using it
Like The College Fix on Facebook / Follow us on Twitter
IMAGES: Shutterstock, Yik Yak screenshot, Facebook screenshots, Guidebook screenshot