A Bethel University student recently issued an apology for wearing a Chicago Blackhawks sweatshirt to class after he was told the clothing was "offensive and hurtful."
The controversy unfolded at the small, Minnesota-based Christian college in a class called "Social Perspectives, Human Worth and Social Action," which delves into themes of culture, power and oppression in America, according to its online description.
Student Cody Albrecht, who is from Chicago, came to the class wearing his home team's apparel in mid-April, then offered to turn it inside out "after becoming aware of the unease in his classroom because of his sweatshirt," the Clarion student news outlet reports.
The instructor, James Jacobs, took to Facebook to vent his frustration.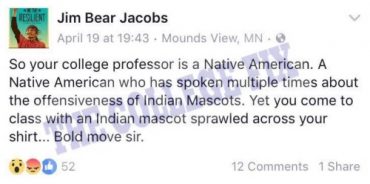 "So your college professor is a Native American. A Native American who has spoken multiple times about the offensiveness of Indian Mascots. Yet you come to class with an Indian mascot sprawled across your shirt… Bold move sir."
The post has since been deleted, but The College Fix obtained a copy.
A week after he wore the sports apparel — and after an alleged meeting with the head of the Social Work department to discuss the situation — Albrecht issued a formal apology to the class. Professor Jacobs suggests it was a teachable moment.
"I'm glad to say that this became an incredible learning opportunity for the student we had a lengthy conversation about it and the student really listened to why those images are offensive and hurtful," Jacobs stated on Facebook in a second post about the incident.
Albrecht declined to comment for this article, telling The College Fix he did not want to disrupt "the reconciliation that has been done" between himself, the professor and the class.
A Bethel University campus spokesperson also declined to comment, citing in an email to The College Fix "respect of the privacy of the individuals involved and their ongoing reconciliation."
But the incident prompted debate among students at the school.
One student told The College Fix he thought the reconciliation could be better described as a "public shaming." "It was not necessary to get the head of his major's department involved," said the student, "they were using intimidation tactics."
He asked to remain anonymous due to the controversial nature of the campus incident.
Other students expressed their frustrations in the comments section of the Clarion's Facebook page. One commenter thinks "the professor needs to start teaching his students how to think instead of force-feeding them his fringe opinion." "Is this satire?" asked another. Some praised the way the situation was handled by the student, or took a more light-hearted approach: "This seems pretty ridiculous. Although, as a Wild fan I am pretty triggered by the Blackhawks."
MORE: Native American group wants 'Aztec' mascot eliminated
Like The College Fix on Facebook / Follow us on Twitter
IMAGE: Shutterstock