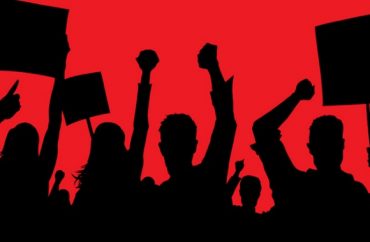 Tufts University students spew vulgarity and profanity-laced messages at student, tell him to leave campus
A Tufts University sophomore who recently proposed a sweeping free speech resolution to the campus community has been viciously attacked and maligned on social media by peers who suggest he's only lobbying for free speech so he can be free to say racist and oppressive things.
Jake Goldberg's resolution calls for an end to campus anti-free speech rules at Tufts, including vague administrative provisos that crack down on the "use of nicknames," "hurtful words," "bias-fueled jokes," "comments on an individual's body or appearance," "innuendos of a sexual nature," "gender bias," and dozens more similar examples cited in the measure.
Goldberg brought forth the resolution on behalf of a relatively new organization he co-created called Students Advocating for Students. But many students reacted to the resolution — posted Sept. 25 on the Tufts Class of 2019 and Tufts Class of 2020 Facebook page — in apparent fits of online rage.
Several publicly called him on social media everything from an "ignorant fuckhead" to "meninist scum" to "a stain on the face of this campus." Private emails to him included calls of "fuck you," "fuck off," and even "eat my ass," according to screenshots provided to The College Fix.
Additional responses included "who knew white cis men were so oppressed" and "I bought you ignorant fuckheads a new domain: ignorantwhitemen.org." Others accused Goldberg and his group of wanting to "gut Title IX and ensure that racial epitaphs are protected on campus" and "trying to codify harassment on campus."
MORE — TRENDING: Students protest the First Amendment
Goldberg was also told by several peers to leave the private, Massachusetts-based research university over his campaign. One student called for the list of those who sign the free speech resolution to be published so signers could be ostracized.
"In their quest to try and stop me from altering the school's policies, they broke almost every single one of them. Students not only abused me online, but also in public, in class, and over email," Goldberg said in a telephone interview with The College Fix.
"What my organization wanted to do was to draw a line clear in the sand to show how crazy and radical people could be," Goldberg said. "It's clear that very few people actually understand what the First Amendment means. We're not advocating for limitless free speech — we're advocating for constitutionally protected free speech. It's incredibly ironic to me that they violated almost all of the speech codes in trying to prevent me from eliminating the speech codes."
Goldberg also told The College Fix that many students came to him privately and expressed their support. However, these students were afraid to publicly support the movement because of fear of retaliation from fellow students, he said.
"I want to engage in debate, and engage with those who are critical of SAS's resolution, but the problem is that people were so abusive about it," Goldberg said. "I assumed that a group of 18 to 24 year olds would understand the First Amendment, but I was wrong."
MORE: Student government VP 'tired of hearing' about First Amendment protections
Tufts University campus officials have not responded to requests for comment on the situation from The College Fix.
Goldberg is founder of "Students Advocating for Students," which seeks to educate students across the country about the importance of free speech and due process and empower them to advocate for their rights on campuses, according to its website.
It was founded in April and the resolution at Tufts is one of its first free speech advancement campaigns, Goldberg said.
Goldberg drafted a resolution for the Tufts Community Union Senate, the student body that oversees student issues on campus. Any student can propose a resolution for them to vote on, and getting signatures of support from undergraduates often helps with that process.
His resolution cites a 2009 decision by Tufts' Board of Trustees that "declares that freedom of expression and inquiry are fundamental to Tufts' academic pursuits." It also summarizes a statement in which Tufts' President Monaco expressed the "necessity of having a campus culture that protects the free and unfettered exchange of ideas, a deep concern of calls to silence speech on our university, the need to protect all points of view regardless of their unpopularity, and the need to respond to offensive speech with more speech rather than censorship."
Despite the vulgar responses to his resolution, Goldberg said he plans to push its consideration before the student government.
This is not the first time Goldberg has fought for a cause. As a freshman last April, Goldberg led an effort asking the appropriations subcommittee that oversees the Department of Education to zero out funding for its Office for Civil Rights.
OCR has "severely threatened students' rights to free speech and due process" since its 2011 "Dear Colleague" letter, followed by its 2013 "blueprint" agreement that further broadened what counts as harassment – both overturning its longstanding guidance that differentiated "offensive speech from sexually harassing conduct," he stated in his request.
MORE: Students want to prohibit 'slurs' but not 'unpopular' speech, survey finds
Like The College Fix on Facebook / Follow us on Twitter
Like The College Fix on Facebook / Follow us on Twitter