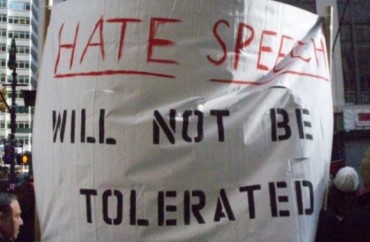 The Council of Student Body Presidents at University of California campuses wants nothing to get in the way of creating an "inclusive university environment."
By their own admission, not even concerns about free speech and academic freedom.
The group released its recommendations Friday for reshaping the university system's "Statement of Principles Against Intolerance," a task that is under review by the Board of Regents.
They boil down to a request for "more cultural and supportive services for marginalized groups" without specifying what they should be, as the Daily Bruin reported.
RELATED: UC regents slam proposed 'principles against intolerance' for ignoring rampant anti-Semitism
Here's the council's nod to free-speech concerns:
There has been much discussion about the effect that this statement will have on free speech and academic freedom. While both of these topics are important, especially if this statement will include actionable items, it is crucial that we do not let such conversations distract us from the true purpose of this statement: the fostering of an inclusive university environment where students can learn and thrive freely without fear and intimidation.
Yes, the student leaders of the University of California think the core functions of a university – the clash and refinement of competing ideas – are a distraction from their emotional comfort.
PSA: #FreeSpeech isn't a distraction; It's the principle you must start from https://t.co/3ozUjepmwC @USACPresident pic.twitter.com/Qnu54MnhYq

— Ari Cohn (@AriCohn) January 11, 2016
It's worth recalling why some groups were concerned about how the revised statement could impact the First Amendment rights of students and faculty at the public university:
The impetus for revisions came from a rash of anti-Semitic incidents on UC campuses, but the proposed policy was so broad that it contradicted its own promise to respect the "free exchange of ideas in keeping with the principles of academic freedom and free speech."
RELATED: Under consideration at U. of California: Granting students the right to not be offended
Even odious ideas, expressed peacefully, are part of that "free exchange" – and trying to punish them with the power of the state doesn't make them go away.
Pro-Palestine groups were especially alarmed that political criticism of Israel could be banned on campus if a resolution by the California Legislature included the State Department's definition of "anti-Semitism," which includes "demonizing Israel, applying a double standard to Israel and delegitimizing Israel" (it was left out of the approved resolution).
The only way for "marginalized groups" to advance their agenda in a pluralistic society is through freedom of expression. They will always be targets for repression if the majority gets to decide what's "inclusive" and punish expression that falls outside of that definition.
h/t Ari Cohn
RELATED: Anti-Semitism, free speech, and progressivism
Like The College Fix on Facebook / Follow us on Twitter
IMAGE: Ashley Marinaccio/Flickr