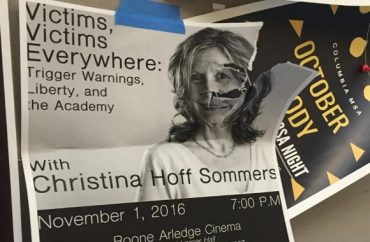 Harassment, intimidation targeted at students hosting Columbia U. event 
Students hosting an upcoming speech that aims to denounce trigger warnings and the culture of victimhood have become victims themselves – of their peers' harassment and intimidation for hosting the event.
The latest harassment comes after student organizers of the upcoming talk by scholar Christina Hoff Sommers put up roughly 50 flyers promoting the event on four different campus buildings at Columbia University and Barnard College earlier this month. Nearly all were torn down within 24 hours.
Since then, the organizers replaced the originals, posting roughly 75 flyers throughout the Columbia and Barnard campuses. That prompted another series of bizarre reactions from peers.
Five or six flyers at Barnard College have had Sommers' face torn or clawed off, while several other flyers were re-posted upside down in other parts of Barnard's campus.
Later, in Lerner Hall on Columbia's campus, two young women lurked and took pictures of student organizers as they posted the flyers, they told The Fix.
Toni Airkasinen, one of the students organizing the event, was putting up flyers in John Jay Hall on Columbia's campus when a female student came up to her and threw a cup of cereal and pretzels at her feet, she said. The student then slowly walked away. In response, she states, "I made eye contact with her once, but was too freaked out to say anything."
This just in: instead of destroying posters, vandals are ripping her face. How bizarre! (Seen on other flyers too) pic.twitter.com/V5bRI73g2P

— Toni Airaksinen (@Toni_Airaksinen) October 25, 2016
But in the end, Airkasinen adds: "The irony inherent in this situation is that the students who are defacing posters aren't just proving Christina Hoff Sommers' point, but are drawing more attention to the lecture they seek to silence. Censorship doesn't always work because the free market of ideas tends to win."
Michael Pusic, a sophomore at Columbia University who plans to attend the Sommers event, told The College Fix that "it embarrasses me that students at my university would be so closed-minded."
Anna O'Sullivan, a spokeswoman for Barnard College, told The Fix in an email on Friday that the content of the flyers aligns with the college's posting policy. The college has not yet obtained official reports of the removal of these flyers, and would condemn such actions if it did.
The College Fix reached out to both the Office of Communications and Public Affairs and the Office of University Life at Columbia regarding these incidents, but both have yet to respond.
Sommers' scheduled appearance at Columbia University on Nov. 1 is titled "Victims, Victims Everywhere: Trigger Warnings, Liberty, and the Academy."
Sommers has spoken out against contemporary feminism, claiming that the rape culture movement is a "witch hunt" and the gender pay gap is "a myth."
MORE: Student rips flyers for 'Where Feminism Went Wrong' speech
Editor's Note: Toni Airkasinen is a student reporter for The College Fix
Like The College Fix on Facebook / Follow us on Twitter