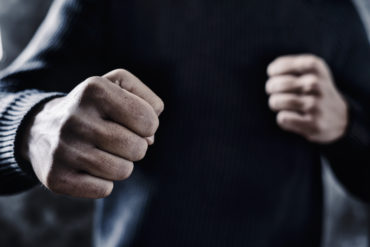 Accuses group of 'normalizing and enabling' Nazism
A violent act against a College Republican was caught on video recently, with a woman at Florida State University pouring her beverage on one of the group's members. The university later announced in a tweet that the individual was identified, arrested, and charged with battery.
"You are supporting Nazis. Do you understand that?" the young woman asks the group at the beginning of the video.
"Are you supporting communism?" one of the College Republicans asks her.
"Yeah, I fucking am. Fuck you man," she responds. Shortly thereafter, with no provocation, the woman throws her beverage on a person off-camera.
WATCH: Angry leftist pours her beverage on FSU Republicans and says they are "normalizing and enabling Nazis" by supporting Rick Scott and Ron DeSantis. pic.twitter.com/1UDRxSZXE1

— Kyle Morris (@RealKyleMorris) November 1, 2018
"Do you understand that fascism is here? Do you understand that Nazis are fucking here?" she yells at the group. When someone points out that "Nazi" stands for "National Socialists," she responds by calling him a "fascist piece of shit."
After arguing with the group for a short while longer, the activist walks away, kicking over a Ron DeSantis sign as she does so.
In a tweet posted Friday morning, the school stated that the individual had been arrested and charged with battery.
FSU is a diverse community that values and respects each person. FSU expects each member of the community to embrace the values of civility and ethical conduct and obey the law. Regarding Tuesday's incident, the individual was identified, arrested and charged with battery.

— Florida State University (@floridastate) November 2, 2018
Reached by phone, university police told The College Fix that they would not be releasing the name of the individual.
In a statement posted to Facebook, Florida State University College Republicans said that the assault victim was Vice-Membership Chair Daisy Judge.
"No person, regardless of where they fall in the political spectrum, should be targeted and assaulted because of their political beliefs," the group said in the statement. "We are glad that no serious physical harm came to our Vice-Membership Chair, and will always stand up for the basic rights and respect that every one of members is endowed."
This is not the only recent instance of beverage-based assault. A student at the University of Texas-Austin recently received a class C misdemeanor for assault after splashing a Turning Point USA cameraman with a bottle of water.
MORE: Students drown out debate between conservative activist and his critics
IMAGE: nito / Shutterstock.com
Like The College Fix on Facebook / Follow us on Twitter