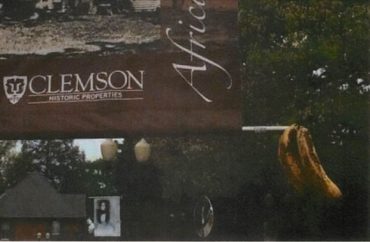 'Our own administration has allowed the reputation of a majority of the student body to be torn to shreds'  
One Clemson University student says he is very upset at campus leaders for their decision to allow the student body and the nation to wrongly believe that bananas hung from a pole on campus was a hate crime.
The incident took place in mid-April, but emails released a few weeks ago by the school show officials knew the same day the bananaing occurred that it was not racially motivated.
But "Bananagate," as some now call it, had thrust South Carolina's second largest university into the national spotlight because the day after the pictures of the hanging bananas spread like wildfire on social media students launched an eight-day sit in over claims of campus racism.
The "racist" bananas prompted student protesters to claim they felt unsafe at Clemson, that it was filled with racism, and that "Clemson does not embrace its students from underrepresented groups."
Now at least one student, Clayton Warnke, said he believes campus leaders should apologize for their "lie," he recently told "The Tara Show," a radio talk show on local station 106.3 WORD.
"I do believe they should apologize," Warnke said. "Clemson is made up primarily of white students, I think everyone knows that. … And our own administration has allowed the reputation of a majority of the student body to be torn to shreds in the public spotlight and has done nothing to stop this."
#SikesSitIn is about much #MoreThanBananas #BeingBlackAtClemson https://t.co/aH2U5dNsnj

— See The Stripes [CU] (@TigerStripesCU) April 20, 2016
Reached for additional comment by The College Fix, Warkne referred to his extensive comments given on the show.
Asked by Tara whether Clemson's decision was discriminatory toward white students, noting "it really made white people at Clemson look horrible," Warnke replied: "Absolutely it did. Talking to some of these people, I am basically told straight up that my opinion and what I have to say doesn't matter simply because of the color of my skin."
"Ironically," he continued, "that is exactly the opposite of what Martin Luther back during the Civil Rights movement of the 60s advocated for."
An effort to pressure Clemson leaders to repeal mandatory diversity class and "RESTORE the reputation of the student body by dispelling accusations of racism" is also underway through a group called WeRoar Clemson, according to its Facebook page.
MORE: Clemson squatters get bored waiting for demands to be met, 'suspend' sit-in
More than just bananas? 
In a nearly 700-word memo to the campus after the sit-in ended, President Jim Clements touted a host of new diversity initiatives, such as mandatory diversity trainings and increasing the number of faculty of color, so that the university could be "a more welcoming, safe and inclusive place for everyone."
Clemson University, in an emailed statement to The College Fix, said it's not all bananas.
"The student protests that took place at Sikes Hall were part of ongoing diversity and inclusion concerns and not tied solely to this banner incident," an official said.
Meanwhile, the university has refused to identify the so-called banana bandits.
Asked point-blank by The College Fix in May whether the incident was a hate-crime hoax, a university spokeswoman replied via email with only the following: "The incident has been investigated. There were no criminal charges applied to the individuals who came forward to express their involvement, and the case has been resolved."
But evidence shows school leaders knew the true nature of the bananas thanks to recently released emails exchanged between Clemson president Clements and Almeda Jacks, vice president for student affairs, the day the fruit appeared.
"Two students came forward and told [sic] they had done bananas," Jacks said in an email to president Clements, a copy of which was provided to The College Fix. "Not a criminal charge or a student conduct violation BUT Dean of Students has authority to use as a teachable moment."
Another email indicated that Jacks recognized that, "Their claim is they had no idea of pole or banner."
"They were intending to throw in Core Campus [an ongoing campus construction project] due to workers waking them up and decided not to and tried to put in trees and when that failed … Saw pole and tossed them (Nobody will believe that tho our folks think true)," Jacks' email alleged.
"Black History Banner Defaced with Bananas, Prompts #BeingBlackAtClemson by Students, Faculty" https://t.co/vUT7mW8KMp

— Frank Faucette (@frankfaucette) April 14, 2016
Warnke has a different take: "They used this to get the progressive agenda they have harped on for so long. … In essence, saying we're just going to, I would call it a lie. I'm not sure if that's how they'd view it, but they were being less than truthful."
Others agree.
A blog post on FitsNews noted: "In other words this whole dust-up was exactly what we said it was – a 'false flag' manipulated by the forces of political correctness to cast blame, stoke division and drain taxpayers of more of their money."
And Clemson student Zachariah Talley, in an interview with The Daily Wire, also expressed anger and frustration over the affair.
"[Campus leaders] didn't address any of the things that were at the heart of it, such as why did you not admit that it was a practical joke?" Talley said.
RELATED: At Clemson, talk of hate-crime hoax mounts
Like The College Fix on Facebook / Follow us on Twitter