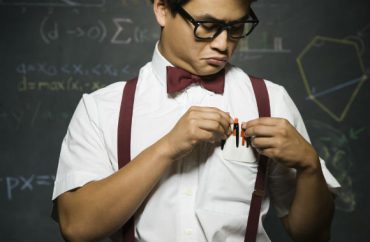 If you thought society's fashion-related discrimination against women ended with fat-shaming Miss Universe or refusing to make trendy clothing for the average American woman, you haven't been looking hard enough.
Specifically at your hips, butt and possibly chest and upper thighs – if you're a man.
"Pockets are sexist towards women," and fashion designers must "adapt and evolve to fit the needs of the modern working women," columnist Eric Schucht writes in the University of Oregon's Daily Emerald.
MORE: Study claims sexist men more likely to grow beards
Enlightened male-identifying person that he is, Schucht unveils the 400-year-old conspiracy to deny women the privileges of men and make them rely on men (like Schucht) to carry their personal items:
It's quite amazing how many pockets guys have at their disposal. From shirt pockets, sweatpants pockets, to even kilt pockets, clothing is stacked in our favor. Not only do men have numerous pockets, but they're also huge. I've been able to hang onto to three phones, two wallets, and a pair of keys in just my jeans pockets alone. Why shouldn't women receive the same luxury?
Because the fashion industry designed women's pockets "for style," not functionality, women were forced to buy handbags. It's another Big Business racket!
Sadly, it makes sense why the fashion industry doesn't include practical pockets in their designs.  It's cheaper to make those favorite pair of skinny jeans of yours without pockets. Your loss is their gain. Furthermore, with the loss of all those pockets, those same companies now have an ideal market to sell their bags and purses to.
MORE: Criticizing free tampons is 'sexism'
Women also face hand discrimination!
After talking to Susan Sokolowski, an Associate Professor with the UO Product Design department, I learned that when designing the side-seam pockets in jeans, manufactures [sic] use a person's hand size for the dimensions of the pocket. Since women have smaller hands, they get smaller pockets, which doesn't help with today's giant phones.
If you care at all about women's rights, tell your student government to make pockets freely available with tampons. It's your duty as a feminist!
MORE: Columbia cancels free tampons, nobody wanted them
IMAGE: Blend Images/Shutterstock
Like The College Fix on Facebook / Follow us on Twitter