Racial unrest has wracked St. Olaf College, a small campus in rural Minnesota, with students essentially taking over the campus with aggressive protests that forced administrators to cancel classes on Monday so demonstrators could air their grievances in a day-long sit in.
The sit-in followed unrest on Saturday during which angry students blocked entrances to campus buildings and demanded redress for a string of alleged racial incidents on campus.
"The students have taken over the campus like a coup," Kathryn Hinderaker, vice president of the College Republicans, told The College Fix in a telephone interview Monday.
In the recent past, conservative students there have voiced concern over being "violently threatened" at the Lutheran college, but the protests began Saturday after a black female student at the college found a typewritten note on her car that used the n-word. She posted it on social media and outraged ensued.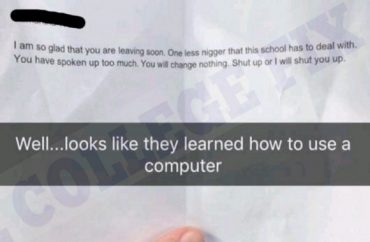 "I am so glad that you are leaving soon. One less [n-word] that this school has to deal with," the anonymous note said. "You have spoken up too much. You will change nothing. Shut up or I will shut you up."
The anonymous note was "the seventh reported act of hate speech on St. Olaf's campus during the 2016-17 academic year," according to the campus newspaper. Other incidents have included notes left for students with the n-word on it and another that read "Go back to Africa."
In response, students converged on campus Saturday evening and blocked the entrance to the college's cafeteria and student commons. There are reports that campus police attempted to remove the protesters, but eventually backed off.
Hinderaker said she had a friend who tried to get into the cafeteria through a back entrance but protesters "ran and blocked them from going into the back." She said she heard a student was punched in the face after he tried to get through the blockade.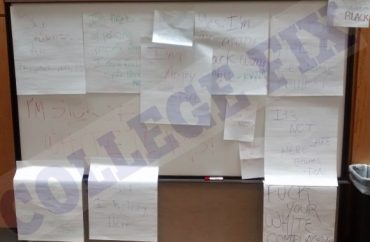 "The idea is, 'we feel uncomfortable every day so we are going to make you feel uncomfortable,'" she said of the blockade. She had gone out to dinner Saturday and ended up bringing back food and water to her peers stuck on campus without access to food, she said.
Protesters also allegedly visited the campus library to gather more students for their protest.
A source who reached out to The College Fix on Monday via email said a friend of hers was working in the library Saturday evening and was allegedly pushed aside by a throng of student protesters who demanded she turn over the library intercom for them to make an announcement.
"When she refused, they stormed the circulation desk and forcibly grabbed the intercom mic to make their announcement," said the source, who wished to remain anonymous for safety concerns. "They also ripped the phone out of her hand and off the wall when she tried to call the police."
Hinderaker, a political science major and vice president of the College Republicans, said she feels mostly safe on campus right now and that most other students appear to feel the same way. Though, she added she's definitely witnessed a verbal form of violence during the protests.
"It's a very hostile, very angry campus right now — yelling, swearing, disrupting," she said.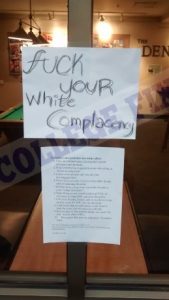 Protests went on into the night at the school's Buntrock Commons on Saturday with protesters even sleeping in the building, according to Hinderaker, who provided a photo of the sleep-in to The Fix. The image shows students brought in their sleeping bags and pillows and sprawled out on the floor.
Over the last three days, protesters also put up signs that included language such as "I'm sick of white tears" and "F*ck your white complacency," and additional signs have since been added, images provided to The College Fix show.
"The campus admins are allowing the commons area to become a bulletin board of complaints against white people. No action has been taken to remove the signs, and no students dare to touch them since there are newly-installed cameras everywhere," the student who emailed The Fix said.
Student protesters, who organized a class boycott for Monday that campus officials eventually went along with after professors cancelled classes, said they want to hold the college accountable for "institutionalized racism that is embedded within the structures of this campus," the student demands state.
Their lengthy list demands also call for actions such as sensitivity training and "mandatory Sustained Dialogue participation."
St. Olaf said it cancelled classes "so that we may have time for faculty, students, and staff to continue the discussions about racism and diversity on our campus," Bruce King, assistant to the president for institutional diversity, said in an email to the campus community.
St. Olaf students filing in for sit-in protesting racist notes found on campus this school year. Most recently on Saturday. #kare11 pic.twitter.com/eeRzDPyd8L

— Ellery McCardle (@ElleryTV) May 1, 2017
President David Anderson has previously addressed the reported bias incidents in an email to students last month, denouncing them and saying he "would love nothing more than to discover who is responsible for these acts and to remove that person from our community."
He said he's "pretty sure that this is the work of one or a small number of people," and it may not even be a member of the university community. Anderson also sent out an email Saturday addressing the latest incident, calling on students to drown it out with supportive and welcoming messages.
"It violates all of our values as a College and a community. It is a despicable and cowardly act," he said of the note.
Despite his remarks, Anderson was met with resistance from protesters. A video posted on YouTube showcases students' anger. As Anderson addressed them in a conciliatory tone, he can be heard being yelled at and interrupted despite promising that university is putting all its resources toward finding out who's behind the bias incidents and reprimanding those responsible.
Hinderaker said the notes being left for students are "terrible," however she disagrees with the take-over of her school.
"But they are now using it to argue our entire institution is racist inherently, and I disagree with that. And the way they have gone about it, yelling at our president, demanding things, some of it is valid but they have gone about it in a very terrible way," she said.
MORE: Conservative students say they have been 'violently threatened' at Lutheran college
Like The College Fix on Facebook / Follow us on Twitter