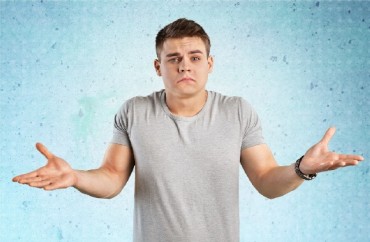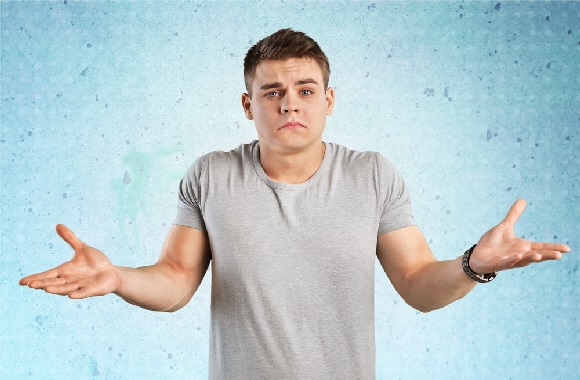 Students at Broward College enrolled in a sociology class were recently given an online quiz that has drawn criticism from one student who said the test is biased against white males.
The abbreviated summer school general sociology course is taught by Assistant Professor Mark Tromans.
According to screenshots of the quiz obtained by The College Fix, one of the questions asked: "When many students graduate from college, they are able to earn an extra $1,435 a month between the ages of 25 and 65. These students manage to earn this bonus by ___." Students are then asked to fill in the bank. The correct answer is apparently "being born male."

Another question queried why Pedro, "a legal immigrant from Mexico," would get turned down for a loan, while George, "a white male whose family has been in America for several generations," would get the same loan despite comparable levels of debt and income.
Although the multiple choice answers include "individual prejudice" and "individual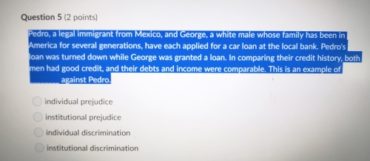 discrimination," the correct answer appears to be "institutional discrimination."
Another question asked why Agatha, "who has worked for ten years in the public relations department of a large firm" and who was "promoted to several higher managerial positions" is never promoted to "an executive." The answer choice is marked as "the glass ceiling."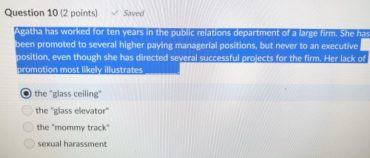 The quiz also inquired "what action is the United Nations most likely to take … when a Least Industrialized Nation experiences political instability that threatens an entire region's balance of power." The quiz indicates that the answer is that "it will give agriculture and birth control to the masses and sell guns to the elites."
Professor Tromans did not respond to emails and phone calls from The College Fix over the last week seeking comments and context for the questions.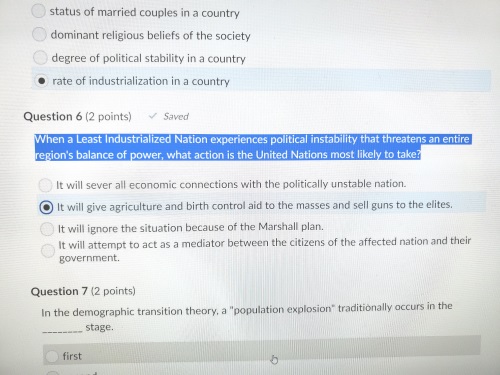 The student who sent the screenshots to The College Fix asked to remain anonymous so that he does not become a target on campus or be penalized for whistleblowing to the media.
In a telephone interview, he suggested the professor is creating a classroom environment that mirrors that of the quiz, and he feels most of his peers cannot discern that they are only hearing one side.
"They're eating it up," he said of his peers, adding the professor is "just reconfirming everything that they hear on TV — 'white man bad,' 'white supremacy,' 'everything is white supremacy.'"
"This victimhood culture, he is cultivating that to make these kids think that they're all victims of something as opposed to teaching them that you are your own person. You are responsible for yourself and the immediate area around you," he said.
He told The College Fix that he sometimes does not attend class and he later explained, "Even though I feel like I approach everything very rationally and with respect, I just feel like I would instantly be that guy — racist, sexist. … Basically, I am afraid to go to class for them lashing out at me for being a terrible white man."
A Broward College spokesperson has not responded to a request for comment from The College Fix.
MORE: Professor issues apology after criticizing 'test anxiety'
IMAGE: Shutterstock
Like The College Fix on Facebook / Follow us on Twitter