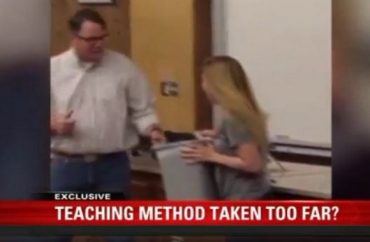 A physiology and developmental biology professor at BYU has agreed not to have his students drink his fake pee anymore after a video of his annual classroom lesson was given to the local Fox News affiliate.
"A student drank what she thought was her professor's urine as part of a lesson on kidney function. The student got extra credit for slugging back a small vial," Fox News Salt Lake City reports, adding that in a statement to the station, Professor Jason Hansen wrote that he has done this in the past with other classes, usually letting everyone in on the gag when the class next meets, and that part of the lesson is meant to discuss how doctors once tasted the urine of their patients to screen for things like diabetes.
The vial actually contained food coloring and diluted vinegar, the professor said.
But the anonymous student who gave the video to a reporter said "I think that's asking too much of students and it has nothing to do with how well we study or how well we actually know physiology … [The student who drank the "urine"] could have said no but at the same time, I feel like that was a disadvantage to me and the rest of the students who didn't want to drink his urine."
A campus official told Fox News Hansen has been asked to no longer conduct the lesson.
Like The College Fix on Facebook / Follow us on Twitter