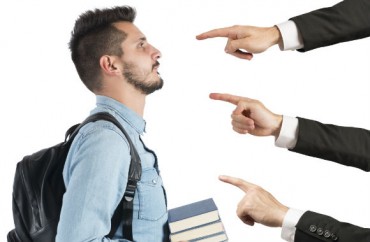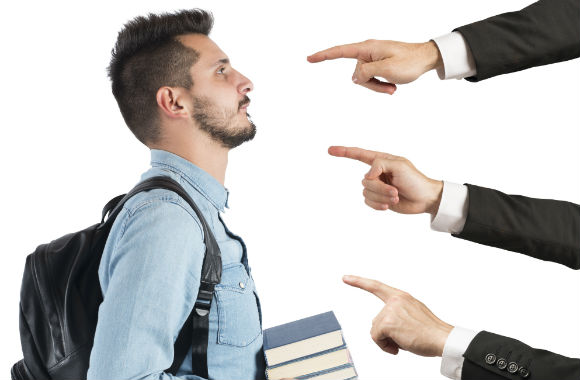 Update on this story about a court approving a male student's lawsuit against Washington and Lee University for expelling him over a "gray rape" claim by a female student:
The university has settled the suit without saying what it gave the unnamed student, including whether it reinstated him, The Roanoke Times reports.
Though the paper notes the university posted a statement about the settling of the case on its website, the announcement is buried on the little-used, hard-to-find Office of General Counsel page – not the News and Media page – and this is the vague pull quote:
The case of John Doe v. Washington and Lee University pending in the United States District Court for the Western District of Virginia has been settled confidentially to the mutual satisfaction of both parties, and John Doe is dismissing the lawsuit with prejudice [can't file it again].
RELATED: Male student – expelled over 'gray rape' claim – can sue college, judge rules
Its general counsel wrote:
Throughout these proceedings, the University has maintained that its officials adhered to its policies and procedures and did not conduct a gender-biased investigation or process with respect to the complaint against John Doe. After extensive discovery, the parties acknowledge that Lauren Kozak, the University's Title IX coordinator who also served as one of the investigators for the allegations against John Doe, discharged her obligations professionally at all times in this matter and did nothing to the prejudice of John Doe, either by her statements or actions. Further, the parties acknowledge that evidence was produced in discovery supporting the conclusion that Ms. Kozak was not present for, and did not make a presentation at, a meeting held on October 5, 2014, as alleged in the federal complaint.
RELATED: White House chickens out of confirmation fight over next education secretary; no hope for accused students
That refers to Doe's claim that Kozak gave a talk about an article on the "regret equals rape" argument, titled "Is it Possible That There Is Something In Between Consensual Sex And Rape . . . And That It Happens To Almost Every Girl Out There?" Jane Doe allegedly made her assault allegations after hearing this talk, though never went to police. More from the statement:
Washington and Lee University is committed to providing fair and equitable policies and procedures for all students in the context of Title IX and federal regulations and guidance.  The University has at all times during the litigation contended that its policies and procedures are consistent with best practices for higher education institutions. [Almost certainly a reference to the Department of Education's legally dubious "guidance" on Title IX, now challenged by multiple U.S. senators and one powerful Georgia lawmaker who is threatening the entire state university system.] We are pleased that this matter has been resolved in a manner that affirms our commitment to provide a safe and respectful community for our faculty, staff, and students. As we pursue our goal of creating and sustaining a community based on trust and mutual respect, we continue to review and refine our policies and procedures as necessary.
The Times reports the case was headed for trial in April, which probably made the school anxious to avoid a ruling requiring it to provide greater due process for students accused of de facto crimes.
RELATED: Dept. of Education SHREDDED for lawless overreach in Senate hearing
This is what a jury would have heard alleged by Doe – a PR-based response to a criminal allegation driven by jealousy and revenge:
And in alleging a rush to judgment by the disciplinary board, Doe pointed out that the decision to expel him was made one day after the publication of a Rolling Stone story — since discredited — about an alleged gang rape at a University of Virginia fraternity house. The article prompted a national outcry against what it portrayed as UVa's culture of indifference to rape victims.

"The negative impact of the Rolling Stone article on UVa influenced W&L's decision to find the plaintiff responsible for sexual assault so as to avoid a similar fate," the lawsuit alleged. …
RELATED: Another Department of Ed official admits its 'guidance' on Title IX isn't legally binding
Doe has maintained that he and the student had sex that not only was consensual, but was initiated by her after they met at a party and wound up back in his room. His lawsuit states that she never complained about the sexual encounter, or a second one a month later, until after he began dating another woman later in the school year.
The school refuses to say how it answered Doe's sought relief  – an unspecified amount of money and reinstatement to Washington and Lee – according to the Times, because of "privacy laws." The College Fix has reached out to the university for an explanation of its legal rationale for withholding settlement terms.
Read the story and the school's announcement.
RELATED: Senate chairman demands Department of Ed give a legal reason for dumping due process
RELATED: 'Even third graders' understand due process, says state lawmaker threatening Georgia Tech
RELATED: State lawmaker threatens Georgia Tech for suspending frat based on refuted racial-slur claim
Like The College Fix on Facebook / Follow us on Twitter
IMAGE: Shutterstock