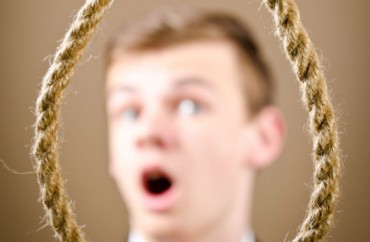 Social-media scolds deny they threatened truck owner
When a truck plastered with a racial message appeared at Iowa State University on Monday, many students there were incensed.
One student leader posted a photo of the truck on Facebook, saying it proved that "racism is still rampant in this community and in our country."
But the "WHITE POWER" message scrawled in blue Sharpie was vandalism, and it was "irritating," the truck's owner told The College Fix in a phone interview.
Before Derek Jensen was alerted that his graffiti-stricken truck was locally infamous, an Internet mob was forming – and the police were investigating his truck.
Black student: Enough with this 'lynch mob'
Linden Hall Director Nick Thuot-Petkovich, whose Facebook page is dominated by criticism of white privilege, saw an opportunity when he noticed the Ford parked at Martin Hall.
"To anyone who thinks that this shit isn't real, I just saw this truck in a lot here at Iowa State University," he wrote, tagging the university in the Facebook post. "Fellow White [sic] people: what will we do to change our legacy of violence and hatred?"
Other users thanked Thuot-Petkovich for taking action.
"Stand up and speak out," wrote an ISU contractor, Stephanie Webb. "Love. Love in all its shades- sometimes love means MLK, sometimes love means Malcolm X."
A campus Latino activist group, Latinos Unidos for Change, shared the post on Twitter to show the "racism and ignorance" it said was endemic at Iowa State.
Today in #racism and ignorance in @IowaStateU this was posted around noon. #blackoncampus pic.twitter.com/x7MK0jIZ6M

— LUCHA (@whatsgoodisu) April 11, 2016
Thuot-Petkovich said he had also called campus police when he saw the truck, "and they informed me that they would send an officer over to investigate."
One Twitter user scolded ISU President Steven Leath for not addressing the truck issue within 24 hours.
@IASTATE_Pres how do you think this makes me feel pres?I haven't heard from you on this.. It's been >24hrs #AskLeath pic.twitter.com/vmMXW8aOQW

— MaBe (@MaBeCraze) April 12, 2016
Yet not all were convinced that the truck's message was authentic. Many pleaded with others not to rush to judgment – interpreted by Latinos Unidos as an attempt to "deny that there's actual intolerance" on campus.
Some of the things ppl r writing on the original FB post. All claims to deny that there's actual intolerance @ ISU https://t.co/tBX64zdjhP

— LUCHA (@whatsgoodisu) April 11, 2016
Another student, Tyler Stapler, called the accusations nothing more than a "lynch mob."
Stapler called out Thuot-Petkovich for putting someone's personal property on social media before he knew the whole story.
Thuot-Petkovich did not take kindly to the criticism. "Really inappropriate to refer to those of us speaking out against racism as a 'lynch mob,'" he wrote back at Stapler, who is black. "That's really fucked up." Another student called Stapler "ignorant."
"I didn't want to see [Thuot-Petkovich's post] turn into a situation where … people could have known exactly where that truck was and turned it into something against equality rather than an instance we can use to further the cause [for equality]," Stapler told The Fix on Tuesday.
Is this a cruel prank?
Jensen only learned how polarizing his truck had become when a high school friend tagged him in Stapler's own Facebook post, which shared Thuot-Petkovich's photo. By then, the photo was going viral.
Jensen's first instinct was to assume that his friend was playing a cruel prank on him.
Fortunately, the graffiti was little more than a nuisance, which he was able to clean off later that day, Jensen said.
He told The Fix that he filed a police report that day, and expects the perpetrator to be charged with vandalism if caught.
"It's just irritating when people are messing with stuff they shouldn't be messing with," he said.
Thuot-Petkovich declined to comment to The Fix. He has repeatedly told critics on the Facebook post, which remains live and unedited, that he wasn't accusing the truck's owner of racism. He said he took precautions by leaving the license plate out of the photo.
Jensen can put at least one concern behind him: He's not a suspect in his own truck's vandalism.
@LWesleyHarrisJr @MaBeCraze @IASTATE_Pres This criminal mischief case is under investigation. The truck owner is not a suspect.

— IowaStateU Police (@ISUPD) April 12, 2016
Like The College Fix on Facebook / Follow us on Twitter
IMAGE: R.Badowski/Shutterstock
Like The College Fix on Facebook / Follow us on Twitter