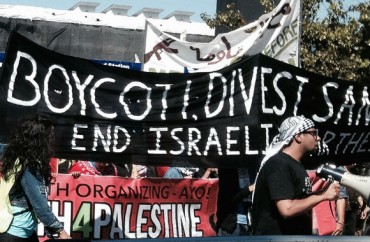 Leipzig University in Germany hosted a June talk by a University of London lecturer, who promoted her book in favor of the boycott, divestment and sanctions (BDS) movement against Israel.
The talk, which allegedly minimized terrorism, was supported by Stanford University and Germany's Ministry for Education and Research.
That struck the ire of Leipzig's student government, which has passed an anti-BDS resolution in response, The Jerusalem Post reports.
Student leaders – including the Young Socialists and Liberal groups at Leipzig – voted "to condemn the anti-Semitic BDS campaign," saying it promotes "anti-Semitic measures such as disinviting Israeli academics":
The resolution states: "Israel's right to exist and to self-defense is for us nonnegotiable." …

The Leipzig student resolution appears to be the first detailed academic document rejecting BDS in Germany. Leipzig University is the second largest university in Saxony, with more than 28,000 students, and was founded in 1409. It counts Chancellor Angela Merkel, philosophers Friedrich Nietzsche and Gottfried Wilhelm Leibniz, and author Johann Wolfgang von Goethe among its alumni. The anti-Jewish composer Richard Wagner also attended Leipzig.
The Post said BDS opponents accuse Germany of using taxpayer money to promote the anti-Israel cause, including the cities of Bremen and Munich giving "space in public offices and city institutions" to further BDS efforts.
Like The College Fix on Facebook / Follow us on Twitter
IMAGE: Alex Chris/Flickr