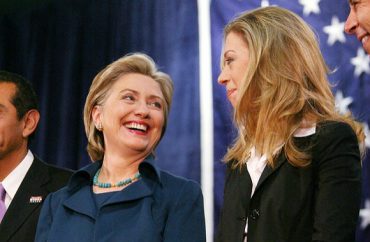 Not paid for with student funding
The Student Association at University of Wisconsin-Oshkosh is hosting a "get out the vote" rally Wednesday afternoon.
The featured speaker is Chelsea Clinton, and students register to attend through her mother's website, HillaryClinton.com.
Yet the student government claims the event is nonpartisan and not an endorsement of any candidate, including Democratic presidential nominee Hillary Clinton.
In a Facebook post Tuesday morning, the Oshkosh Student Association announced the event, scheduled for 4:15 p.m. It says "the guest speaker will be Chelsea Clinton."
The post has a disclaimer: "OSA is non partisan the hosting of this event is to encourage political engagement and should not be seen as an endorsement."
Yet the link in the post goes to nominee Clinton's website, which bills the event as an "Early Vote Event with Chelsea Clinton in Oshkosh."
The website lists the event as an official Hillary Clinton event, and the text under the post link reads: "Supporters are getting together to figure out the best way to support Hillary in our community – and we need you to decide!"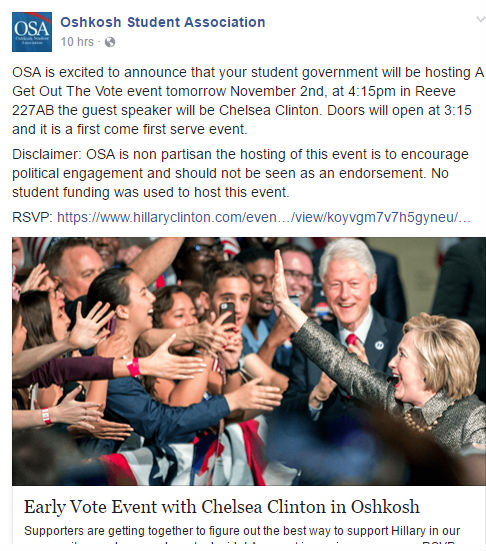 The Oshkosh Northwestern local newspaper also lists the stop as one of three campaign events for Chelsea Clinton in Wisconsin "to campaign on behalf of her mother, Democratic presidential candidate Hillary Clinton."
UW-Oshkosh student Taylor Skroski told The College Fix in a Facebook message that the event is clearly partisan.
"The Democratic Party of Wisconsin is supporting the event and they have the Democratic Party candidate's daughter coming to campus to discuss her mother's plan and to campaign on her behalf," Skroski wrote.
She said students received multiple emails from the Student Association for the event Tuesday, which described the event's purpose: "Chelsea wants to discuss her mom's plans to address issues that matter to your community — like climate change, making college more affordable, and access to health care, particularly for women and girls." Skroski said students did not receive any email about the event before Tuesday.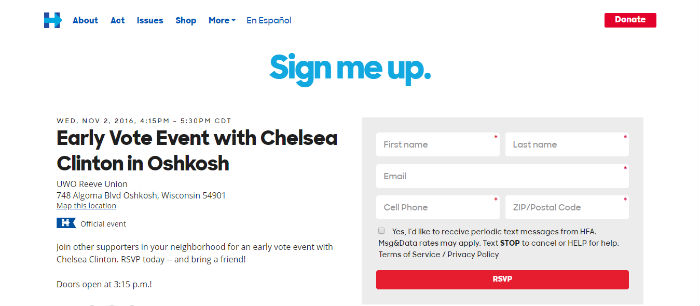 The Student Association's Facebook post says: "No student funding was used to host this event." An official named Rae Ann told The Fix in a Facebook message Tuesday night that she would refer Fix questions to President Austyn Boothe.
The student government did respond to Skroski's Facebook comment that the state Republican party told her it had not been invited to the event: "OSA did not contact any parties related to the presidential election, we are hosting this event to allow students to participate in a political discussion."
Another commenter, Philip Samuels, wrote: "Kind of hard to have a discussion when there's clearly only one viewpoint being covered." He said a "truly" nonpartisan event should have featured a political science professor discussing "the importance of voting and participation in the political process."
Like The College Fix on Facebook / Follow us on Twitter
IMAGE: Krista Kennell/Shutterstock, Oshkosh Student Association/Facebook, HillaryClinton.com screenshot