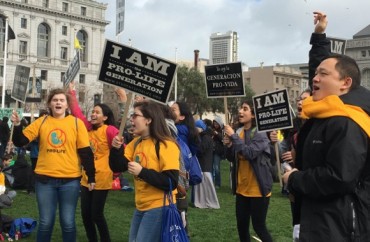 You want to know what it can take to get a pro-life speaker at a public university? The hint of a lawsuit.
Ex-Planned Parenthood clinic director Abby Johnson, now an anti-abortion activist, gave a talk at the University of Colorado-Boulder last week. According to the Daily Camera, she told students that it took "legal hustling" to pull off the event.
The Alliance Defending Freedom was behind that legal hustling, and it explained what that required in a blog post Monday.
Since bringing Johnson would require student funding, the fledgling Students for Life chapter at CU-Boulder applied for a grant from the student government's Cultural Events Board, which distributes student activity fees:
A few weeks later, SFL was surprised to receive seven questions from the Board, many of which focused on SFL's and Ms. Johnson's pro-life views. For example, the Board asked if SFL would "be willing to find another speaker for this event who would be able to address the multi-faceted issue [of abortion] without attacking the organization of Planned Parenthood." It also questioned whether Ms. Johnson, whose back­ground as a former Planned Parenthood clinic director is unique, would present "an educational perspective" on the abortion debate.
RELATED: Purdue staffer who said he'd rape women to test pro-life conviction hints he'll sue pro-life group
In mid-February, after answering these questions, SFL was disappointed to learn that the Board had denied its funding request. … The Board explained:  "The speaker as presented will talk about Planned Parenthood abortion practices but will not provide an unbiased view on pro-life issues." So to the Board, a pro-life speaker—who has seen both sides of Planned Parenthood—did not provide an educational perspective. Interesting.
There is no organization that hears appeals of funding denials. That's when the alliance got involved, and look at what it found the board had previously funded, with no concern for ideological balance:
It funded a lecture from Angela Davis—recipient of the Lenin Peace Prize and former leader of the Communist Party USA—without requiring that the event also champion free market economics. It funded a presentation from transgender activist Janet Mock without also requiring the event to present a biblical view of human sexuality. It funded an event with Cornel West without asking the organizers to invite someone like Thomas Sowell. And it funded a speech from Jose Antonio Vargas, a pro-illegal immigration activist, without de­manding that the event also include a pro-border security perspective. So the "unbi­ased view" rule only applied to a pro-life speaker.
RELATED: Pro-life professor accused of 'inspiring' Planned Parenthood shooter 'to complete his mission'
The alliance wrote to the CU-Boulder administration, warning that it could not legally treat a pro-life group differently than other groups when it comes to student activity fee funding.
Lo and behold, eight days later the Cultural Events Board reversed itself and asked the Students for Life chapter only content-neutral questions about its planned event. The group got 98 percent of what it requested, the alliance said.
It would be nice if student governments would simply treat all groups equally when they apply for funding, but we're not holding our breath.
RELATED: In win for intellectual diversity, CU Boulder's Conservative Thought and Policy Program extended
Like The College Fix on Facebook / Follow us on Twitter
IMAGE: Sade Patterson