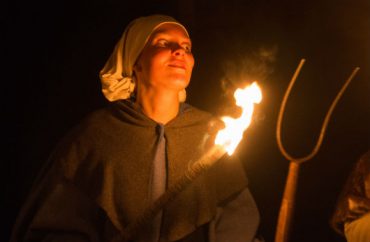 Demands that every chapter nationally cancel all social events, indefinitely
A Snapchat photo of a banana peel in a Greek townhouse has led to a reign of terror targeting anyone associated with Greek life at George Washington University.
The private university's student government issued a veiled threat against the administration if it doesn't immediately expel the Alpha Phi sorority from campus, in spite of the fact that the sorority quickly expelled the members behind the photo.
The GW Hatchet reports that the Student Association Senate unanimously passed a resolution against Alpha Phi sponsored by Imani Ross, who previously made racist comments about "light-skinned women" in criticizing Alpha Phi's composition.
Ross whipped up a mob to attend the standing-room-only Monday night meeting, which was moved to a 300-seat classroom from its usual 60-seat venue to accommodate the crowd, according to the Hatchet:
"Diversity and inclusion isn't trendy," Ross said, presenting the resolution to the senate. "This is not a resolution on white people's definition of diversity and inclusion. This is a resolution that aims to tackle institutional racism and how it affects diversity and inclusion on campus."

She said officials should respond to the resolution and take up its recommendations, or they will face a "swift and deliberate course of action" to wipe out exclusion and racism on GW's campus.
Since the student government has no authority to do anything, Ross appears to be threatening to lead mass protests that paralyze the campus and its Foggy Bottom neighborhood in D.C., just blocks from the White House.
MORE: GWU might punish Alpha Phi for a banana peel
Set up re-education camps for Greeks
Ross's resolution, creatively titled the Alphi Phi Bigotry Act, includes some surprising "endorsers" beyond the usual radical-left groups.
They include the campus chapters of Delta Sigma Theta, Phi Beta Sigma, Alpha Phi Alpha, Sigma Lambda Upsilon, and Alpha Phi Omega. Evidently they think they can save their Greek hides if they join the mob, but it's questionable whether they read the full resolution before endorsing.
It accuses the GWU chapter of Alpha Phi of a "race-based spirit of exclusivity" and its national chapter of a "pattern of racist behavior." The chapter "does not reflect their own creed and principles, nor the values and mission of The George Washington University."
Citing no evidence, the resolution goes on to accuse the university's Panhellenic and Interfraternity Council organizations of "urging its members to not speak out against racism on our campus."
The Student Association Senate "condemns the [alleged] intimidation imposed upon members of our community via gag orders issued by Panhellenic and IFC organizations."
George Washington University Student Association Senate resolution: "Alpha Phi Bigotry Act" by The College Fix on Scribd
MORE: University of Alabama risks 1A suit for Alpha Phi expulsion
It demands the "immediate removal" of the Alpha Phi chapter from campus, or in the alternative, the complete suspension of "social events … on a national or local level indefinitely."
You read that right. This collection of fake legislators is demanding that all Alpha Phi chapters nationally stop holding social events indefinitely.
Because this dead horse isn't done with the beating, the resolution demands the housing office evict Alpha Phi and give their townhouse to a multicultural Greek organization.
Re-education camps would be set up for Greek organizations: All would have to take "mandatory diversity training" as well as a yet-to-be-invented "race, bigotry, and behavioral workshop," or face "immediate suspension."
Oh, and undergraduate orientation would also feature mandatory "in person racism and bigotry awareness training." What a fun family weekend at GWU.
Impose penalties for thoughtcrime
Because every meaningless resolution also includes a list of spending demands, this legislative farce demands that GWU (cost of attendance: $70,443) hire nonwhites in two dean-level roles, one of which does not exist.
Saving perhaps the most outrageous demand for last, the resolution demands the revision of the Student Code of Conduct.
Senators want sections on discrimination, disorderly conduct and hazing "to include racialized language to address facets of diversity and inclusion."
This would spell the end of any definition of freedom of thought at GWU. It could just as easily be used to punish students of color who mock "white tears" and "white fragility" or call white women the racial slur "Becky."
Then again, GWU already has the worst speech-code rating from the Foundation for Individual Rights in Education. It has a track record of punishing students for purely political speech and speech that administrators don't even understand.
What's one more deployment of blatant discrimination against an entire class of students to briefly satisfy an ignorant trust-fund mob?
Read the Hatchet article and resolution.
MORE: Alpha Phi flips the bird to Harvard over single-sex club ban
MORE: GWU punishes student for posting Hindu symbol
MORE: GWU threatens student for hanging flag
IMAGE: Hans Splinter/Flickr
Like The College Fix on Facebook / Follow us on Twitter