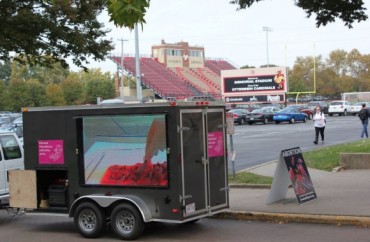 Brainchild of the 'Student Experience and Campus Climate Committee' 
Otterbein University's student government recently tried to purchase a city sidewalk in front of the college to prevent an anti-abortion group that uses large, graphic images of aborted fetuses from protesting there.
The chair of the student government's Student Experience and Campus Climate Committee proposed Oct. 26 to purchase the walkway for $500 from the city of Westerville, Ohio, according to Otterbein's online student media source, Otterbein360. But students on the Allocation Committee voted 5-1 against the proposal with one abstention Nov. 18, citing concerns with the logistics of purchasing the sidewalk and maintenance costs.
Meanwhile, the activism group Created Equal has held two protests so far this academic year at the sidewalk in question that flanks Otterbein. Their protests included displaying on its JumboTV videos from the Center for Medical Progress that suggest Planned Parenthood sells body parts of aborted fetuses. Planned Parenthood has stated the videos were deceptively edited.
In response, Otterbein students have staged counter protests, knocking down signs, standing in front of the organization's "Truth Truck" and JumboTV and initiating a "bedsheet brigade" to cover up displays.
If the private university owned the sidewalk, Created Equal would need permission to hold protests. Mark Harrington, the group's executive director, said the proposal to purchase the sidewalk attacked freedom of speech.
"The antidote to offensive or disturbing speech is not less speech but more speech," Harrington told The College Fix. "That's what the students should be encouraging their student body to do — to come out and engage in more dialogue."
RELATED: Universities used aborted parts to create 'humanized' mice to study
Suzanne Ashworth, faculty senator for the Student Experience and Campus Climate Committee, did not respond to requests for comment from The College Fix.
Even if the student government's proposal had passed, the college would not have been able to purchase the sidewalk.
Adam Maxwell, director of administrative services at the city of Westerville, told Otterbein360 the sidewalk falls under public right-of-way, which must be available to pedestrians. Additionally, the city owns electric and water lines underneath the sidewalk that service other buildings in the area.
"You don't just buy the surface, you're buying everything underneath it as well," Maxwell said.
Student government President Carrie Coisman told Otterbein360 the proposal didn't have to do with abortion but the comfort of students on campus.
"It wouldn't censor Created Equal; they would just have to ask permission to come, which would give us more heads up, which, again, is not anything to do with politics, more just protecting the campus environment because, on both sides of the equation, it tends to get heated. It got apparently a little rowdy last time," Coisman said. "I think if everybody had more, just, advanced notice, people could take better care of themselves. People that have political opinions could better and more eloquently prepare."
Harrington disagreed, saying the proposal was political. He said students should have responses to the displays and his organization wants to hear about them.
"Abortion should get us angry. That's an appropriate reaction. It should be the act of abortion that gets us angry, not the folks that show it," Harrington said. "We defend the rights of others who adamantly oppose our viewpoints to come and express themselves, and I would go to bat any day to have someone who disagrees with me to have the same rights as I do."
Instead, Harrington said counter protestors vandalize and cover up their displays, and the student government tried to inhibit free speech.
"What bothers us is that students would feel at a place like a college campus — where it's supposed to be the market place of ideas, a place where people are supposed to have a free and open exchange of competing world views and those kinds of things — that they would need to shut down speech and try to censor it," Harrington said. "This isn't the place for that, and it shouldn't be."
The university also released a statement reaffirming the school's commitment to free speech: "We respect the rights of any group who wishes to share and express their opinions on public property and encourage our students to either engage in debate, ignore it, or learn the process that takes place between debates and protesting."
Between the defeat of the proposal and the university's statement, Harrington called it a "victory," adding "we fight for free speech almost as much we make the case against abortion on college campuses."
Harrington said his organization will return to Otterbein and future attempts to "shutdown" Created Equal will not succeed.
"We'll be ready for whatever that happens," he said. "We will not be deterred."
RELATED: More college students support post-birth abortion
Like The College Fix on Facebook / Follow us on Twitter
IMAGE: Created Equal Facebook screenshot