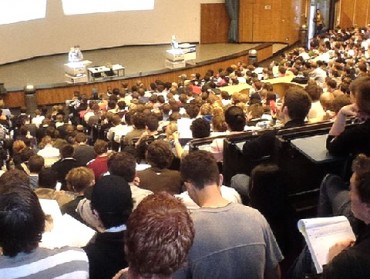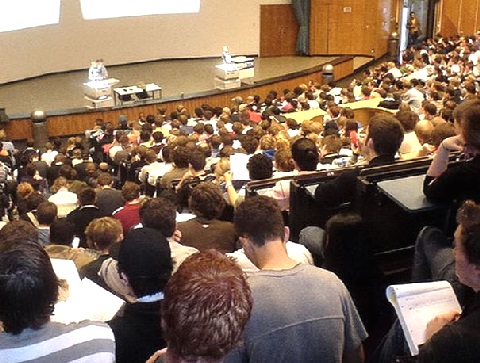 Students at the University of Michigan may soon find conversations on sexual misconduct to be part of their first day of class experience.
The Central Student Government at the University of Michigan recently passed a resolution that calls on all professors to include information about the university's sexual misconduct policy on their syllabi, regardless of the subject they teach.
The March 17 vote followed similar measures passed earlier this year by the university's Literature Science and the Arts Student Government and Engineering Student Government.
Student leaders want the following three paragraphs added to academic syllabi:
The University's Student Sexual Misconduct Policy, in accordance with federal law (Title IX), makes it clear that sexual misconduct, violence and harassment are civil rights offenses (see: http://studentsexualmisconductpolicy.umich.edu/).

If you or someone you know has been harassed or assaulted, confidential support and guidance can be found with the University's Counseling and Psychological Services (CAPS) and at the Sexual Assault Prevention and Awareness Center (SAPAC). SAPAC can be contacted on their 24-hour 88 crisis line, 734-936-3333. More information is available at caps.umich.edu and sapac.umich.edu.

Alleged violations can be reported non-confidentially to the Office for Institutional Equity (OIE) at: [email protected] While CAPS and SAPAC are confidential spaces, other university-affiliated individuals may have responsibilities to share that information with the university. If you have any questions about who is mandated to report, contact 94 the OIE or SAPAC. In case of an emergency, call 911.
Junior Laura Meyer, a volunteer with Sexual Assault Prevention and Awareness Center, said that part of her reasoning for pushing for the inclusion of the sexual misconduct policy on syllabi was the potential role that professors could play in starting conversations on this topic.
"It was time to give professors resources to help them play a part in that conversation too," she told The College Fix.
While Meyer said she understands that these are potentially hard discussions for professors to have with students, she thinks that having the sexual misconduct policy present on course syllabi is a good way to educate students.
"These are difficult conversations to have," Meyer said, "but my solution would be to educate everyone about this instead of ignoring the conversations or putting them off."
After its approval, the student government resolution was sent to faculty and university administrators. Members of the Faculty Senate declined to comment to The College Fix on the resolutions, which are non-binding and cannot be forced upon scholars.
Proponents of the move argue that bringing these discussions to the classroom would increase visibility of Sexual Assault Prevention and Awareness Center and other organizations that provide resources to students who may be struggling with issues relating to sexual misconduct.
However, this information is also available through a range of other platforms, including Student Life websites, University Housing Staff, and the Statement of Student Rights and Responsibilities. In addition, the Sexual Assault Prevention and Awareness Center is a highly visible organization that frequently hosts on-campus events as well as a workshop for all students living in University Housing.
According to the Central Student Government resolution, "1 in 4 women and 3 in 50 men in college will experience an attempted or completed sexual assault" and "institutions such as the University of Hawaii and the University of Iowa have included similar language on their syllabi."
College Fix reporter Erin Dunne is a student at the University of Michigan.
Like The College Fix on Facebook / Follow us on Twitter
IMAGE: Thomas W./Flickr