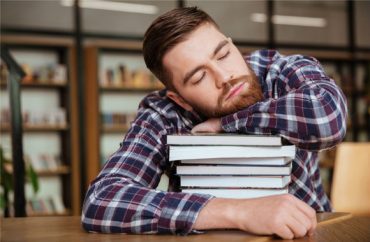 'Napping pods' would allow students to catch 20 minutes of sleep in library
A student government at a public university recently voted to endorse a measure that would install two "napping stations" at the school's library—at a cost of over $20,000.
The Student Government Association at the University of Maryland voted to 28-2 to "endorse a proposal that would implement two napping stations in the University of Maryland's McKeldin Library for students in need of a midday snooze," according to the school newspaper, The Diamondback.
The "napping stations" are manufactured by MetroNaps EnergyPods, according to The Diamondback. The pods are outfitted with a "futuristic appeal," and "include a 20-minute timer, a privacy visor, storage space, a light mimicking sunrise at the end of the nap and a music feature."
Funding for the project will come from the student government's University Facilities Council subcommittee by way of the Student Facilities Fund, "a university account that aids student-supported facilities, projects and improvements."
"The order for two pods," The Diamondback reports "…would cost a combined $21,818.20 after applying a learning institution discount of $6,470."
During the legislative debate, business representative Nate Zumbach raised concerns that the pods are too expensive.

"It's not the SGA's money and it's not the libraries' money, but we all paid into the [student facilities] fund," Zumbach said.

[Anthony] Escalante and SGA legislator Christian Coello garnered the University Libraries' support to increase the chances of receiving funding, Coello said. The libraries agreed to implement a pilot program, and its length will depend on student interest in the pods, said Eric Bartheld, University Libraries communications director.

McKeldin is the best place to debut the nap pods because students are in the library at all times of the day, Bartheld said.

"We're here to help students succeed academically," Bartheld said. "We hear from them frequently that they want EnergyPods or a napping room or something just to help them make it through long hours of studying."

The ultimate goal is to install nap pods in all seven libraries on the campus, Escalante said.
One student told the Student Government Association of a time when he took a nap on a couch in the student union. "That was a very uncomfortable experience," he said. "After that, I started to notice how often that happened around me."
Like The College Fix on Facebook / Follow us on Twitter