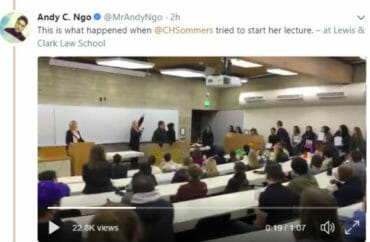 UPDATED
'We will not subscribe to the belief that we must tamp down on speech due to discomfort'
Radical left-wing student groups tried to get Christina Hoff Sommers, known for her "Factual Feminist" YouTube series, disinvited from Lewis & Clark Law School in Portland, whose metropolitan region is home to a vocal Antifa contingent.
When their attempt at persuasion failed, they resorted to familiar territory: repeatedly disrupting the event so that organizers or law enforcement would shut it down.
The American Enterprise Institute scholar and critic of fainting-couch feminism addressed the school's Federalist Society chapter this afternoon, after the student group refused to disinvite her.
In a statement Sommers shared on Twitter this morning, the Federalist Society said Sommers was not a fascist by any conceivable definition, given her opposition to "the oppressive cloak of authoritarianism that extreme collectivists are known all too well to wear."
They said they hope that characterization of her is a "rash mistake" rather than a "deliberate attempt to justify shutting down the pursuit of free and rational discourse by any means possible":
Ms. Sommers exists on record in support of survivors of sexual violence and those who are oppressed due to their race or identity. … To deny her the ability to discuss these concepts with us due to these mischaracterizations is a pallid excuse for preventing dissent from existing on campus.
They denounced left-wing groups' attempts to "distort the concepts of language and power into a crude club with which to crush all possible discussion on difficult topics," noting that Sommers' planned speech had prompted "a great and passionate debate" over her views.
The chapter said it was "deeply disheartening" that the critical student groups would "flatly oppose discussion" at a law school, "where we are training to engage in well-researched and rational argumentation. We will not subscribe to the belief that we must tamp down on speech due to discomfort."
Wonderful statement from Lewis & Clark Law School Federalist Society. Defends me from attempted smear by a few confused campus groups. Defends free expression! Well done!@Fedsoc @thefire Speaking at noon. pic.twitter.com/uLiAoyo1Lo

— Christina Sommers (@CHSommers) March 5, 2018
In a statement Sommers tweeted Sunday night, nine student groups called the author and scholar a "known fascist" and accused the Federalist Society of an "act of aggression and violence" toward those who suffer "racial and gendered oppression."
Signed by the school's chapters of the National Lawyers Guild and Young Democratic Socialists of America, as well as law groups for women, immigrant, black, Latino, Jewish and LGBT students, the statement faulted Sommers for denying "the existence of male supremacy" and referring to dubious left-wing statistical claims as "myths."
They accused Sommers of giving "credibility to this reactionary rhetoric" from men's rights activists, whose primary victims "live at the intersections of oppression" and who "bear the brunt of this attempt to legitimate gendered violence."
The groups asked the Federalist Society to disinvite Sommers, saying "those calling for 'debate' of marginalized people's humanity" – not remotely what Sommers has ever advocated – don't recognize "how language works, and how it can be used to reproduce the systems of oppression we know we must resist at all costs."
They continued: "There is no debate here" when it comes to speech that has a "negative and violent impact on other individuals."
The statement says the nine groups will protest Sommers' talk by "handing out signs with messages voicing our dissent" to hold up during the event.
Oh dear. I'm speaking at Lewis & Clark Law School tomorrow at noon. Several student groups are planning to protest the presence of a "known fascist" on campus. Demanding my invitation be rescinded. Wish me luck. pic.twitter.com/0IhVPrWIul

— Christina Sommers (@CHSommers) March 5, 2018
Protesters at the event ended up going far beyond holding up signs. Portland-based College Fix contributor Andy Ngo, who has also published in The Wall Street Journal and New York Times, has been chronicling the attempted shutdowns this afternoon.
Sommers responded to campus security's question about whether she was packing by noting her self-defense is a canine.
The mood turned more serious when protesters took the front with signs reading "Rape culture is not a myth" and "No platform for fascists."
They then interrupted Sommers with lengthy chants against "male supremacy" and accused her of "delegitimizing the suffering of women worldwide." They continued "Rape culture is not a myth! Microaggressions are real! The gender wage gap is real! Trans people are real!" Sommers can be seen chuckling at points.
This is what happened when @CHSommers tried to start her lecture. pic.twitter.com/WJrQGAnmkA

— Andy C. Ngo (@MrAndyNgo) March 5, 2018
After the protesters finished their off-key protest song, Sommers asked if they were finished: "I think the rest of the audience would like to hear what I have to say … And then we can debate and reason together." The protesters did not respond.
They soon refused to wait for Q&A, shouting at Sommers and accusing her of "embarrassing" the school and student body. "She asked for engagement! Answer the student's question about what you just said!" yelled one student. "How is it a balanced debate if you're not answering her question?" asked another.
Protesters moved on to playing music while Sommers spoke, and then challenging her statement that intoxication does not necessarily mean incapacitation for the purpose of sexual assault. Someone said law students should know the definition of incapacitation, sparking loud crosstalk, though it wasn't clear to whom the comment was directed.
Campus security does not attempt to restore order in any video posted by Ngo.
Emotional exchange when protester accuses @CHSommers of approving sexual assault. "That's what you just said!" pic.twitter.com/KlQxcuSpKm

— Andy C. Ngo (@MrAndyNgo) March 5, 2018
A New York Times columnist who has drawn outrage for challenging radical feminist dogma was also following Ngo's tweets, comparing the protest to the Spanish Inquisition.
A 21st-century auto-da-fe. https://t.co/ALT0pAX2J1

— Bari Weiss (@bariweiss) March 5, 2018
Sommers herself took pains to clarify to her Twitter audience that the protesters, both inside and outside, were not representative of the audience. She also pointed out the protesters could work on their tunefulness.
The chaos inside the lecture hall at Lewis & Clark Law School was only part of the problem. Protesters outside were chanting loudly. BTW:Most of the students, conservatives & progressives, were civil. A noisy minority was willing to impose its will on everyone else. https://t.co/iliRcVNibu

— Christina Sommers (@CHSommers) March 5, 2018
I don't think they were music majors. https://t.co/WgxV0xMNrN

— Christina Sommers (@CHSommers) March 5, 2018
Read the Federalist Society and protest groups' statements, and follow Ngo on Twitter for updates.
UPDATE: Information and media from protesters' attempted shutdown of the Sommers event have been added. The headline and featured image have also been changed to account for the attempted shutdown.
IMAGE: Andy Ngo/Twitter
Like The College Fix on Facebook / Follow us on Twitter