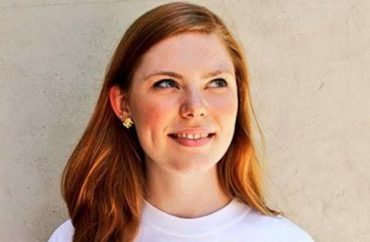 What is it like being a conservative at Harvard?
"Difficult," said government major Emily Hall.
Many of her professors have displayed overt liberal biases in the classroom, and often her fellow students are not willing to engage in meaningful debate, Hall said.
"A recent survey revealed that more undergraduates identify as socialist than as conservative," she told The Fix, adding one of the institution's nicknames is even "Kremlin on the Charles."
Bias at Harvard can come in many forms, according to Hall, who notes it was something of a culture shock, having attended a Catholic school for 14 years, interacting with peers who agreed with her and never really having her beliefs challenged. She adds:
All that changed when I started my freshman year. Many of the people that I met were disgusted with conservatism, had misconceptions of what I, as a conservative, might believe, or simply didn't think that a college-age woman might disagree with modern feminism and liberalism. I quickly learned that here, I would need to be able to defend every last concept of my long-held belief system.

The denigration of conservatism extended from other students to my courses, from the hub of on-campus volunteering to the Christmas—no, holiday—decorations in the dining hall, which during my sophomore year included a placemat guide to discussing politics with potentially backward and conservative family at home. I was bombarded with liberalism, and I didn't know how to stand up against it.
In an op-ed for the NewBostonPost, Hall also recounted how she was welcomed to Harvard as a freshman.
"A popular pre-orientation program for freshmen, called 'FUP,' short for First-Year Urban Program, welcomed students to campus with signs reading, 'Honk if you hate Reagan too!' While (thankfully) I didn't participate in that program, I nevertheless quickly learned that here, I would need to be able to defend every last concept of my long-held belief system," Hall stated.
But Hall – who was valedictorian of her high school class – is not one to shy away from challenges.
Frustrated with a lack of intellectual diversity, Hall took action. She recently founded a Network of Enlightened Women chapter at Harvard, and has become more outspoken about her conservative beliefs on campus, she said.
NeW is a national organization that helps empower women to defend and promote conservative and free market principles on their liberal campuses.
"Founding a chapter here has helped us to create a space for conservatives, particularly conservative women, to come together and discuss the often overwhelming liberalism that we face each day," she said.
Bias at Harvard can come in many forms, but professors' left-leaning bias is a big one, she told The Fix.
"One poignant example occurred last fall when I took a class with the main architect of Obamacare, David Cutler, who specializes in healthcare policy," Hall told The Fix. "The class was mostly about global health but then we moved into more specific information about our country. Once he began talking about his life's work of crafting this policy, it tended to get pretty biased."
"Because his exposure to this policy was entirely positive, he was not hesitant to voice about how successful its implementation has been."
Hall said the course's final included the question: "Name three advantages or disadvantages of the Affordable Care Act." She said this question was far easier to answer by naming the advantages because they had only been taught about the disadvantages in comparison to single-payer insurance, rather than the conservative viewpoint on the act's disadvantages.
Hall told The Fix she doesn't usually stand up to her professors in class, but enjoys when her TAs play the neutral party in small group discussions to foster debate.
"It is unfair and untrue to say that all liberal students are disrespectful to conservatives," she explained in the NewBostonPost. "I have interacted with a number of people who are willing to listen to the other side, supportive of my involvement with the conservative movement, and genuinely interested in open political discourse on campus. The problem is that this is not true in all circles, potentially because the liberal message often goes unchallenged."
With Hall's activism, that might change.
Even before founding NeW at Harvard, Hall helped organize several events to promote intellectual diversity: Jeb Bush's strategist, David Kochel, gave a talk on campaign strategy; and the president of Harvard Law School's Federalist Society spoke on religious liberty.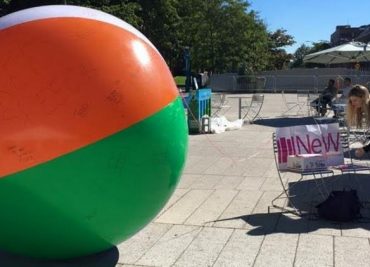 Hall's biggest foray into campus activism thus far has been the placement of a giant free speech ball in the center of campus. This seven-foot-tall beach ball was "a huge attention grabber," she said.
"Many people wrote on the ball with statements ranging from 'free speech rocks' to 'i love the constitution' to expletives about Donald Trump to 'I hope you have a good day,'" she said, adding several visitors to campus from other countries also expressed their love of free speech in their native language, and the Dean of the College even added his own inscription to the ball: "Free inquiry promotes progress."
"I hope that as our chapter grows, we can also bring speakers to campus that will expose much of the student body to ideas that may be antithetical to their own, but can also open their minds to diverse viewpoints and lead them to give conservative political thought a chance," Hall said.
MORE: Fearless females fight back against conservative shaming on campus
MORE: Yes, conservative Republican women major in environmental studies
Like The College Fix on Facebook / Follow us on Twitter
Like The College Fix on Facebook / Follow us on Twitter