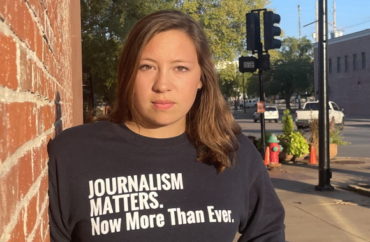 Told to resign despite editorial board's insistence they support the First Amendment 
Oklahoma State University student newspaper Editor-in-Chief Maddison Farris was forced to resign recently after facing criticism for writing a column critical of her university's mask policy.
Farris published her "Enough is enough" column in the O'Colly after being kicked out of class by a professor for not wearing a mask, which she said "multiple phone calls with the governor's office confirmed" violates Oklahoma law.
"I had done my research prior to the class. Senate Bill 658 informed me that a mask could not be required of me within a school setting in the state of Oklahoma. Knowing this, I decided to take a stand," she wrote.
Farris argued that the incident was about more than a mask. It's about control.
"It's control over my choices, desires and body," she wrote. "I will not allow any institution to take away my right to decide for myself what is best and to make my own decisions, or to take away the rights and decisions of others."
Pushback started soon after Farris' column was published on September 9.
The next day, OSU alumnus and former O'Colly Editor-in-Chief Stetson Payne tweeted a letter calling for the school to review policies for selection of editor-in-chief "given that Maddison has publicly endorsed alt-right, conspiratory and anti-journalism viewpoints on social media prior to her selection to the position."
The letter was signed by 19 former O'Colly editors and contributors.
In regards to the "Enough is Enough" column posted online and printed in the @OColly. pic.twitter.com/vKiXVOTvOT

— Stetson Payne (@stetson__payne) September 10, 2021
Two days after Farris' column was published, the O'Colly editorial board released a "correction" claiming that the Oklahoma Senate Bill 658 "does not apply to people such as teachers, principals, individual school officials and professors."
"We welcome any and all opinions offering rebuttal of this column, and do not wish to diminish any opinion," the board wrote. "As American citizens, we affirm our belief in the First Amendment and the right as journalists to express our personal opinions no matter if our viewpoint is different from those around us."
Though the board affirmed the First Amendment, Farris was "called into a meeting with the rest of the editors" on September 13 and told to resign, according to her forced resignation letter.
"I regret that this was the outcome of exercising my first amendment rights, but even more so, I regret that I have been robbed of the opportunity to learn from my errors and that productive discussion was unable to take place," she wrote following the event.
Farris told The College Fix that she was given no indication they would ask her to resign.
"Before the meeting, I was led to believe that I was going to be asked to write a public apology," Farris said. "I had absolutely no idea that they were going to ask me to step down from my position."
OSU spokesperson Monica Roberts affirmed that OSU and the O'Colly "value the First Amendment" and claimed Farris' removal was "not tied to the opinion expressed."
"We believe freedom of speech is a cherished constitutional right and should be safeguarded, as does the operational and editorial independence of the O'Colly," she told The Fix. "We have been informed the change in leadership was not tied to the opinion expressed."
"Out of respect for everyone involved in this matter, we accept the decision to change leadership as part of protecting and preserving the operational and editorial independence."
"The O'Colly is an experiential journalism laboratory, and the O'Colly plays a critical role to inform and promote discussions on matters of importance to our campus," Roberts said.
The O'Colly did not respond to two requests for comment from The College Fix.
Farris said the board's actions are concerning, both for her campus and the country.
"The contradictions and lack of firm values displayed by my peers proves that public opinion tends to outweigh the truth," Farris told The Fix.
"However, I am very aware of the fact that it is not just my college that is struggling," she said. "Stories very similar to mine are surfacing across the United States, and sadly they will continue to do so until a common appreciation for diverse opinions and free thinking can be rediscovered."
MORE: Click here for 1,400 more examples of campus cancel culture
IMAGE: Courtesy image
Like The College Fix on Facebook / Follow us on Twitter