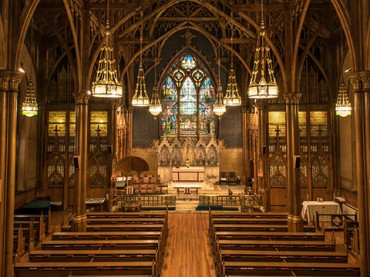 Religious worship not 'vital function for society'
A journalism major at Texas State University is arguing against the state's Gov. Greg Abbott's decision to allow religious worship to continue during the coronavirus pandemic, arguing that in-person services are "not essential" and should thus be banned.
"Allowing these groups to congregate in-person will bring temporary comfort and detrimental consequences," writes Delilah Alvarado in The University Star. 
Alvarado, a senior studying journalism at the university, cites Abbott's executive order last month that listed "religious services conducted in churches, congregations, and houses of worship" as "essential" activity under the state's coronavirus lockdown. Numerous states have either explicitly banned public religious worship or else effectively outlawed it by limiting the number of individuals who can gather in one place at one time.
Alvarado argues that a desire to worship with one's congregation is dangerously egotistical:
Organized religions have wrongfully incited [sic] the First Amendment in order to keep religious services essential. Services can easily continue digitally.

A closure of religious services is meant to protect the community, not restrict free speech. At a time that is bringing mass disruption, no one should be ignorant or selfish…

Abbott needs to reestablish essential businesses to decrease the risk of an exponential rise in COVID-19 cases. Religious leaders also need to set aside their pride and realize that in-person services do not reign importance in a pandemic.
It is unclear if religious services are indeed a notable vector for transmitting COVID-19; scientists are still attempting to determine under what circumstances the virus spreads most easily. One professor in Heisenberg, Germany determined that "severe outbreaks of the infection were always a result of people being closer together over a longer period of time," though it is unclear if church services, which generally last around an hour, constitute a "longer period of time" under that measure.
MORE: Med prof says COVID-19 could be a tenth as deadly as the flu in America
IMAGE: GeorgeF / Flickr.com
Like The College Fix on Facebook / Follow us on Twitter