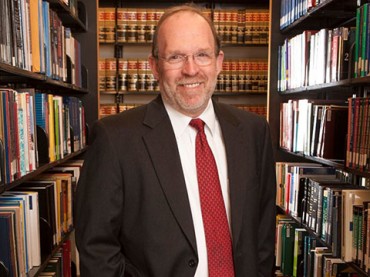 Professional reputation, newspaper's funding in danger
Northern Michigan University administrators and faculty members allegedly intimidated student journalists at the university's independent student-run newspaper, The North Wind, over their practices of investigative journalism.
Last fall, the newspaper filed Freedom of Information Act requests to examine the university's contract agreements with various businesses on campus and published a series of articles based on those records.
"People were trying to make us feel bad about the way we were writing," Emma Finkbeiner, editor-in-chief, said in an interview with The College Fix. "We aren't out to do a smear campaign, but we are going to report on something the university does, whether it's good or bad."
Finkbeiner and faculty adviser Cheryl Reed lawyered up to seek a resolution to what their legal counsel describes as "a pattern of escalating antagonism" from university officials.
Along with officials from the Michigan Press Association and Student Press Law Center, the newspaper's general counsel asked NMU President Fritz Erickson in a Feb. 11 letter to "personally take immediate steps to address a campus culture that is hostile to an independent journalistic voice."
Officials threatened to pull the newspaper's funding if the student journalists did not halt their investigative work, Reed said in an interview with The Fix.
One editor was told "if she continued to write and publish such articles it could hurt her professionally when she went to look for jobs and no one would write her a reference," according to the letter.
Additionally, Reed's overtime compensation pay for advising the newspaper was rescinded. She had to file a union grievance to get her pay restored, but the administration is cutting her release time in half for the future, the letter claimed.
If you can't beat 'em, bury 'em with a document dump
The contention began in September, when reporter Heather McDaniels looked into the university's relationships with Starbucks and Stone Creek Coffee Roasters after the latter's kiosk didn't return to campus after a remodeling. "It was a totally innocent idea," Finkbeiner said.
University officials released the Stone Creek contract after a North Wind FOIA request but declined the Starbucks contract because the school was "prohibited by a confidentiality clause from producing the agreement," according to an email from administrators to the newspaper.
"[It] was a total red flag that [the withholding] was absolutely not legal, because it was a public university in a contract with a public corporation," Finkbeiner said, leading her to think "they're trying to hide something" from the paper.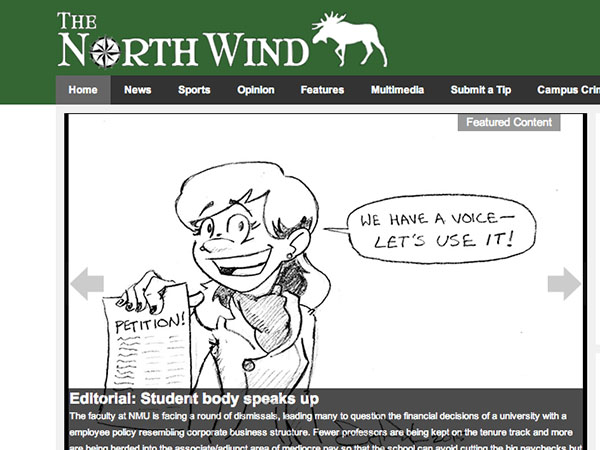 The paper continued pressing for the Starbucks agreement, and the school delivered four days later after "working with our legal counsel and the vendor's legal counsel to obtain permission to release the agreement," according to an article published by The North Wind.
Following a series of articles on the Starbucks contract – including revelations that Starbucks had a 10-year campus monopoly and the school paid Starbucks a $30,000 licensing fee plus monthly royalties – the school "started to see it as we were sort of coming after them and trying to make them look bad and attacking them," according to Finkbeiner.
Shortly after, The North Wind filed another request after receiving an anonymous tip that pointed to NMU's contract with tech company Lenovo.
The school complied with that request, but provided the specific documents buried among 9,000 pages of records that included contracts with Apple and IBM, according to Reed.
"I've been around the block a few times, and this is a common tactic to sort of overwhelm you with data in hopes that you can't find anything," Reed said, calling it "kind of weird that they gave us things we didn't even ask for."
Due to the volume of the documents, the newspaper's staff is still sifting through all of the contents, Finkbeiner said.
Toothless Title IX investigation
Meanwhile, between the first and second records requests, student reporters began experiencing intimidation from officials, according to Finkbeiner.
She said she was told in a meeting that the newspaper's funding and her professional reputation were endangered unless if she ceased such aggressive reporting.
Finkbeiner reported the incident to the university's Title IX office for investigation.
"I'm not sure how objective that investigation was, since the Title IX investigator sent everything Emma did and said to the administration," Reed said. "Basically she came back and said that there was not a preponderance of evidence. It was a 'he said, she said' kind of thing. Nothing was done."
Finkbeiner then filed a third documents request for correspondence between administrators to "make sure there wasn't a greater plan from the top down to find ways to make us stop being so aggressive in our investigative reporting," she said.
The paper negotiated down the cost of the request by half, to $300, after limiting its scope, though President Erickson scrapped the fee after public outcry, saying it was "for the good of the University and the relationship with the North Wind."
The administration "is seeking common ground and a spirit of cooperation with the North Wind," according to a statement from the university. "We respect the students' interests and rights to information concerning the functioning of the institution."
North Wind staff discovered, however, that most of the requested documents' contents had been redacted and some emails were missing. Officials cited student privacy rights as the reason for the redaction.
Finkbeiner filed an appeal to challenge the redactions, with no response. The North Wind's legal counsel followed up with the letter to Erickson, to no avail.
"It appears that we either have to find a mediator or go to court," Reed said.
Despite the alleged intimidation and a potential legal battle, Finkbeiner said the newspaper would keep reporting aggressively.
"We're just students, and we're just trying to learn and do our best, and it's a little discouraging to see the pushback, but we're just going to keep doing our jobs and continue to be good reporters," Finkbeiner said.
College Fix reporter Julianne Stanford is a student at the University of Arizona.
Like The College Fix on Facebook / Follow us on Twitter
IMAGE: Fritz Erickson's Facebook page, The North Wind screenshot