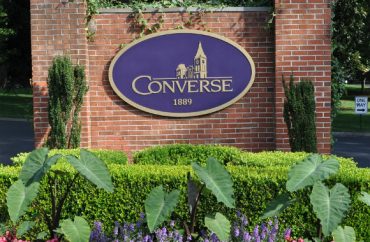 EDITOR'S NOTE: The Converse College administration responded to this report after it was published. The full response is posted below.
Women's college loses it when Hillary Clinton loses election
When Republican Donald Trump was elected president last week, the intelligent, determined young women of Converse College – along with their esteemed instructors – lost their minds.
They posted video of themselves crying on Snapchat. They walked around campus in tears, and the administration set up "safe zones" where students weren't allowed to discuss the election results.
One of my professors pushed back a midterm "given recent upsetting events," and students planned to organize "silent protests" on Thursday.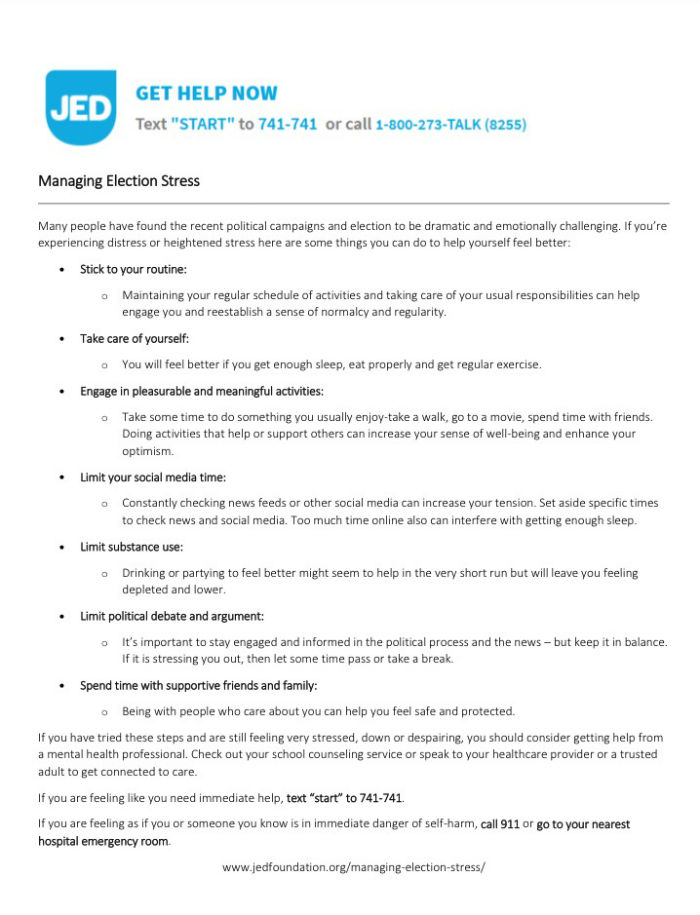 If this sounds like the typical college reaction to Trump's victory, there's a twist: Converse is a women's liberal arts college.
From President Krista Newkirk on down, the Converse community invested a huge part of its identity in Democrat Hillary Clinton shattering the last remaining glass ceiling in America.
The only acceptable sentiments to express since Wednesday have been grief and outrage. Feelings are so raw that the few contrarians on campus have become targets.
One student even claims she got kicked out of class after she challenged her professor's comparison of Trump's election to the September 11 terrorist attacks.
'Never been so disgusted in my life'
Before she was ejected from class by her professor, the student wrote a Facebook post scolding those who were "comparing 11/9 to 9/11":
You are comparing today to a day that killed thousands of people in MY HOME. You are disrespectful, you are unintelligent and you should think before you post things on social media. I am disgusted.
That comparison continued in the student's class, she said. (The student requested anonymity to share her story, so The College Fix is not naming the professor either.)
The professor told the class "I haven't felt this way since 9/11" and called Nov. 9 the second worst day in American history, according to the student. That spurred her to disagree and tell her professor it was disrespectful to those who lost their lives on 9/11.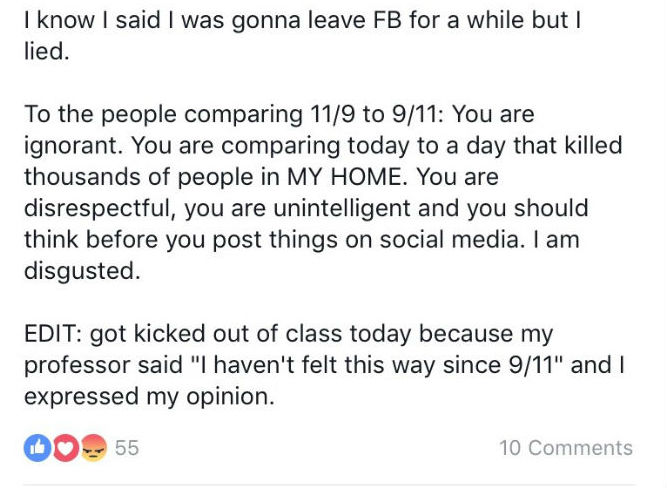 "I went to her class and got kicked out for expressing my opinion," the student said. She asked to meet with the dean of the department, who told her the issue would be "rectified in a professional and acceptable manner," according to the student.
"I have never been so disgusted in my life," the student told The Fix.
Converse College released a statement Wednesday referring to the classroom incident, saying the student was "NOT Ejected From Class":
An article was recently posted online claiming a Converse student was ejected from class after expressing a political viewpoint in opposition to her faculty member. The faculty member and student involved have asked Converse to convey that this claim is untrue and to clarify the situation. The student was not removed from class. There was a discussion in the class regarding the outcome of the election in which the faculty member and the student disagreed. The student was given the opportunity to leave class and she chose to do so. Both parties have resolved the situation to their full satisfaction, and the professor has apologized to the student as well as to the other members of the class.

Converse College strongly supports civil discussion of different perspectives among all of its community members. In any case where we discover that this principle has been violated, Converse has and will continue to take appropriate action.  In an address to the full faculty and staff this week, President Newkirk reiterated the College's policy on academic freedom and added, "I urge you to be careful about stating your personal political views in the classroom and potentially creating an environment where the students believe that there is only one right opinion, or only one right opinion on our campus or in your class.  We must be open to other points of view and allow students to explore these issues in the public discourse.
@CollegeFix Converse Response: Student NOT Ejected from Class – student and professor clarify story https://t.co/n2mekKwcJN …

— Converse College (@ConverseCollege) November 16, 2016
'All I ask is as I respect them they also respect me'
The principles that Converse stands by are Voice. Value. Vision. With fewer than 1,400 students, the school emphasizes community involvement and sisterhood.
In the wake of Trump's election, civility and sisterhood were thrown out the window.
"I am sad that once again our young girls and women have failed to see the shattering of that glass ceiling and the first female president of the United States," President Newkirk wrote to the student body. She said it wasn't a "partisan statement."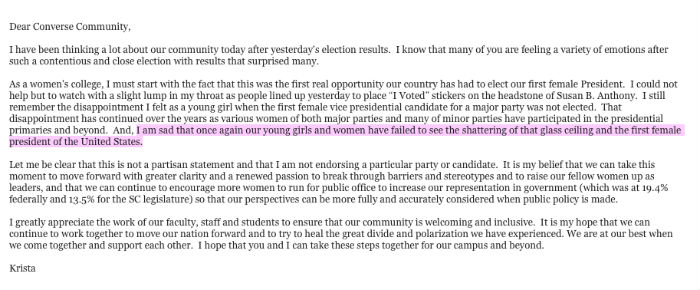 Mourning the still-remaining glass ceiling, Converse students took to social media to express their devastation at the election of the "sexist" Trump. Those who weren't devastated have borne the brunt of that sentiment.
"Students have been un-friending one another on Facebook based on political views and responses" since the election, student Heather Jane Clare Hiley told The Fix.

Kathleen Price didn't like either major-party candidate, "but for me, Trump seemed the better of the two" because his "policies lined up with my beliefs and that's why I voted for him."
She told The Fix she's afraid of sharing her views on campus or even online.
"I have been quiet about my views for fear of being bashed and not wanted at Converse like some of my friends have been, and many of my fellow sisters have been bashed because of what they believe in or who they voted for," Price said. "All I ask is as I respect them they also respect me."
"I think there has been a change on campus, if only a slight one," another student who requested anonymity told The Fix. "The emotions this election has drudged up are entirely valid and it's hard pressed to compare the level of fear and disdain in our nation today as just another presidential election."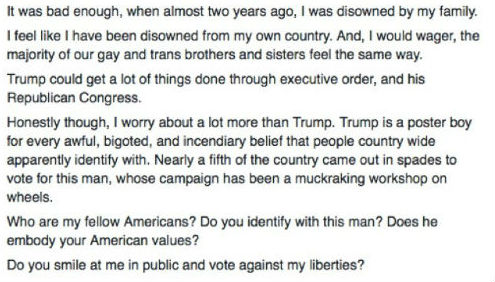 'We do not tolerate intimidation'
The tension and unrest in the student body was not lost on Converse administrators.
"The election has caused a lot of stress on our student body over the past 48 hours," the Division of Student Development and Success wrote in a letter to the student body.
It organized an "Election Aftermath Program" that divided "each school of thought into different rooms to talk about fears, hopes, and where to go from here."
The division also warned students: "We do not tolerate intimidation or bullying for a difference of opinions – regardless of your partisanship." It did not specify what it considers intimidation or bullying.
It also sent out worksheets instructing students on "ways to cope with election stress," which included tips like "Limit political debate and argument" and "Unplug from social media."
Like The College Fix on Facebook / Follow us on Twitter
IMAGES: Converse College/Flickr, Facebook screenshots